Vietnamese and Danish lawmakers and experts talk about barriers that Vietnam has faced in energy transition to reach sustainable development goals, experience from Denmark and the two countries' partnership in the field.
Solar power providers left with excess
Taking advantage of Vietnam's energy potential
Renewable energy: the future of power for Vietnam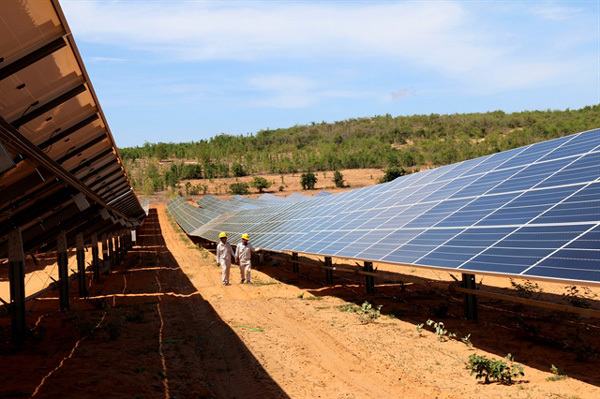 Solar power panels installed in the south-central province of Binh Thuan. The province now has about 95 solar power investors. — VNA/VNS Photo Nguyen Thanh
Le Hong Tinh, vice chairman of National Assembly's Committee of Science, Technology and Environment

Vietnam has followed the global trend of developing renewable energy. Located in the equatorial zone, Vietnam has a natural advantage in solar power. In the context that hydropower potentials are running out and imported coal pollutes the environment, it is a priority of Vietnam to implement wind and solar power policies.
However, if solar power develops at a too rapid speed, it will cause an imbalance in the power system. A cloud blocking the sun can interrupt the system.
European countries have their power system connected to a general European network. When the grid of one country is interrupted, they buy electricity from the general regional power system. Unlike Vietnam, the power system is not connected to any regional network. Therefore in case of interrupted transmission, it is difficult to find alternative sources of energy.
Vietnam has revised the Law on Electricity, Law on Economical and Efficient Use of Energy and related laws to attract and encourage the public to engage in using renewable energy.
The Vietnam Electricity has offered assistance of VND1 million (US$43) for each household installing solar-powered water heaters. Now we have to adopt policies in which families can sell extra solar power on their roofs to integrate into the national grid.
We need also an electricity tax policy. The National Assembly has conducted studies to work with the Ministry of Industry and Trade to make amendments and supplements to related laws.
Professor Tran Dinh Long, full member of International Academy of Electrotechnical Sciences, vice president of Viet Nam Electrical Engineering Association

Vietnam has not mapped out an appropriate plan for national electricity structure in the long term. Vietnam used to target a low proportion of renewable energy in the plan. After that, following the global trend, the proportion of renewable energy has been adjusted to increase.
The percentage of renewable energy accounted for in the national electricity structure needs comprehensive planning on power sources and grids.
Experience from around the world including European countries, China and India shows renewable energy policies start from feed-in tariff and preferential treatment for clean energy. Vietnam needs to conduct insightful research to adopt a general appropriate feed-in tariff policy. This must answer questions of how electricity prices are supported, through loans or preferential import-export policies.
Dr Vu Minh Phap, Institute of Energy Science, Viet Nam Academy of Science and Technology
The barrier of Vietnam is weakness in technology quality inspection. Technologies of solar and wind power from global manufacturers have entered Vietnam at a rapid speed. However, there is no Vietnamese unit in charge of inspecting these devices to check whether the technologies are well suited to the Vietnamese environment. Another barrier is that there has been no study in Vietnam that finds proper answers to the question of how to treat waste after solar and wind power projects reach their end of life.
Steen Gade, former member of Danish Parliament, former chairman of the Climate, Energy and Building Committee

I think Vietnam needs to combine energy politics with climate issues. Vietnam needs to combine economic growth with a very strong environmental and climate agenda.
Denmark has experience in involving people. It has been the centre in Denmark when we need high prices of energy, we discuss in public, in media, in organisations, among ordinary people to find out the best solution.
In Denmark, local farmers in rural areas made co-operatives where they own wind mills and they can sell wind power to the grid. That means it was an economic benefit for farmers, at the same time, it started the process of renewable energy. We combine economy and environment and we focus on renewable energy. We have developed action between people, topic discussions, media, education and politics.
Aton Beck, director of global co-operation, Danish Energy Agency
 
We have very good co-operation with the Vietnamese Ministry of Industry and Trade and the electricity of renewable energy authority on how to ensure more renewable energy in Vietnam's system. On November 4th, we will launch a new Vietnam's energy outlook that will look into different kinds of scenarios for the long-term transition in Vietnam. There is definitely a huge potential for wind, solar energy and biomass in Vietnam.
Next year, Denmark will have more than 50 per cent of our electricity consumption based on wind. We can integrate it into our system. In 2028, we will have 100 per cent of electricity consumption based on wind.
Denmark has some good experience and we would like to share with Vietnam.
Vietnam has very successful economic growth but it also creates challenges in the energy sector including higher energy demand, higher dependence on coal, higher emissions of greenhouse gases and higher dependence on importing energy with dramatic increase in energy import.
We have good co-operation with the Vietnamese Ministry of Industry and Trade to ensure that Vietnam has the right framework for having international developers coming to Vietnam to invest. That is really important that you have transparent and simple framework conditions for renewable energy developers. VNS