There are 50,000 technology firms currently active in Vietnam, but the country is set to double the number by 2030, said To Thi Thu Huong, deputy director of Information Technology at the Ministry of Information and Communications.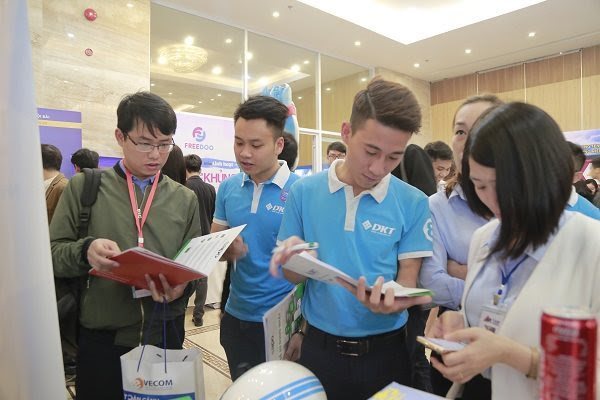 Staff of tech firm DKT introduce technological solutions to customers. Vietnam seeks to have 50,000 more tech firms by 2030
The target was announced at a press briefing held on May 6 to introduce the National Forum on Developing Vietnamese Tech Companies.
By setting the target, Vietnam aims to be listed among the 30 most technologically advanced countries in the world.
Among the present 50,000 tech firms in the country, 30 software and hardware companies posted a total of nearly US$100 billion in revenue and contributed VND50 trillion (US$2.1 billion) to the State budget last year.
Huong added that Vietnam has the potential to realize the target with close cooperation between the Government and enterprises.
Developing a community of 100,000 tech firms is expected to pave the way for Vietnam to become a high-income nation by 2045.
Addressing the press briefing, Phan Tam, deputy minister at MIC, said the Industry 4.0 era has offered multiple opportunities for Vietnamese tech firms given their understanding of the local market compared with foreign firms operating in the country.
Software service provider Misa, for instance, successfully developed accounting software especially for local businesses, which can cope with issues related to Vietnam's policies, said Tam.
He added that MIC expected the upcoming forum to spur the foundation of more tech startups, allowing Vietnam to quickly realize its target.
Besides this, high-quality personnel is key to the success of tech firms, said Hung Tran, CEO of Got It, one of the first successful tech startups in Silicon Valley in the United States.
There remains a large gap in terms of qualifications between Vietnamese Information Technology (IT) engineers and foreign ones. Local personnel in the IT sector still lack the capacity to develop innovative tech products and soft skills.
Accordingly, Vietnam must focus on training high-quality IT engineers and adopt new policies to develop new business models. In addition, tech startups should willingly perform various challenging tasks and accept risks, explained Hung.
The forum is scheduled for May 9 in Hanoi, gathering Prime Minister Nguyen Xuan Phuc and some 1,000 delegates who are leaders of ministries and localities, as well as local and foreign tech experts and companies. Many issues will be brought to the table at the event, including solutions to develop more local tech firms and measures to connect them. SGT