The Ministry of Natural Resources and Environment has written to the Government Office and the relevant ministries and agencies, inviting them to a meeting to seek solutions to the air pollution in large cities, especially Hanoi and HCMC.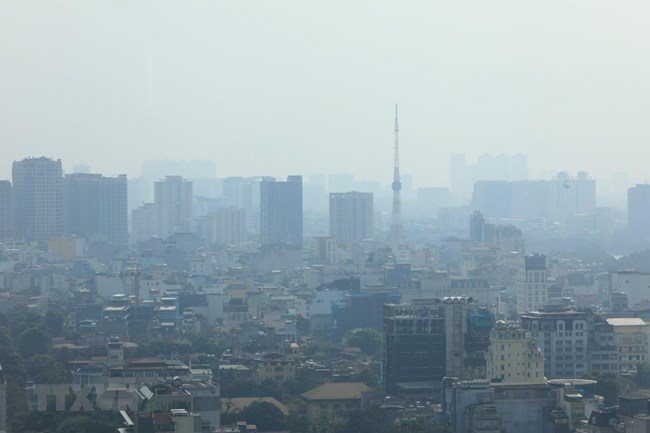 Air pollution in Hanoi is becoming more serious. The Ministry of Natural Resources and Environment will hold a meeting on air pollution on December 19 - PHOTO: VNA
According to the ministry, the air quality in large cities is currently a great concern among residents. Air pollution is getting more serious across the country, affecting the living environment and health of residents, the local media reported.
Therefore, the ministry has invited representatives of the Government Office; the ministries of Industry and Trade, Agriculture and Rural Development, Construction, Transport, Finance, and Planning and Investment; the local governments; the Departments of Natural Resources and Environment of HCMC and Hanoi; and other relevant ministries to the meeting.
At the meeting, delegates will discuss the deployment of the prime minister's Decision 985/2016 approving a national action plan on air quality management by 2020 with a vision toward 2025. They will also determine the causes of and solutions to the air pollution in large cities.
Over the past few months, the air quality in many areas across the country, especially Hanoi and HCMC, has become worse.
The two cities have been listed among the worst cities in terms of air pollution in the world.
The main reason for the air pollution in HCMC is emissions from motorcycles, while the air pollution in Hanoi is attributed to emissions from traffic, construction, industries and residents' daily activities.
In addition, the dry weather and low rainfall in Hanoi have increased the volume of air pollutants.
According to experts, air pollution reduction is the responsibility of not only the environmental agencies but also the whole community. SGT

As air pollution in the capital city of Hanoi has reached alarming levels over the past week, the Ministry of Health has issued scores of recommendations for residents to alleviate the effects of poor air quality on their health.

Experts think that HCM City authorities need to apply a special policy under Resolution 54 to amend existing policies to better manage quality of the air.