Vietnamese PM Nguyen Xuan Phuc has joined other leaders around the globe in voicing their support for an emergency declaration for nature and people ahead of the 74th session of the UN General Assembly this September.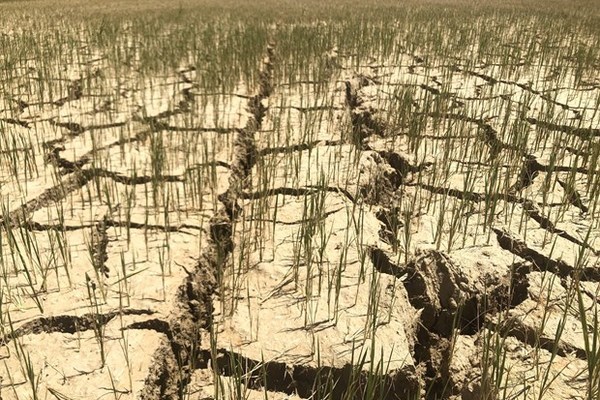 A rice field in An Tinh commune of Hoai An district, the central province of Binh Dinh, dries up in July 
The Vietnamese PM raised his voice in a short video screened at the "Leaders for Nature and People" event in New York city, the US, on September 23. The event gathered state leaders, members of royal families, corporate leaders and influential persons worldwide.
In his message, PM Phuc emphasised that Vietnam has been exerting efforts to join hands with the world in shifting towards a green and circular economy. It resolutely does not exchange the environment for economic growth that will affect sustainable development.
The country always puts climate change response, natural resources management and environmental protection in an important position in its resolutions on and orientations for development, he affirmed.
According to the World Wide Fund for Nature (WWF) – an organiser of the "Leaders for Nature and People" event, the planet is in a crisis. Since 1970, wildlife populations have declined on average by 60 percent, while humanity's impact and overexploitation of natural resources have grown exponentially. The consequences for people can be seen already through increasing fires, floods and extreme weather. Science shows that without urgent action, they will only get worse.
In 2020, many international treaties, including the Sustainable Development Goals and the climate treaty, will be re-negotiated. The WWF and other organisations have called for a new deal for nature and people.
Vietnam is one of the countries most vulnerable to climate change – a factor that has been making the threats to its environment like habitat loss, biodiversity loss and unsustainable exploitation of natural resources increasingly serious, according to the communication centre for natural resources and environment under the Ministry of Natural Resources and Environment.
The emergency declaration for nature and people, expected to be signed by heads of states at the 75th session of the UN General Assembly in New York in September 2020, will reflect a strong political commitment to the ambitious goals on climate, biodiversity and oceans, as well as to the Sustainable Development Goals./. VNA