Management of solid waste has not met the requirements of environmental protection, thus Vietnam is making efforts to manage solid waste in a more effective way, Deputy Minister of Natural Resources and Environment Vo Tuan Nhan said.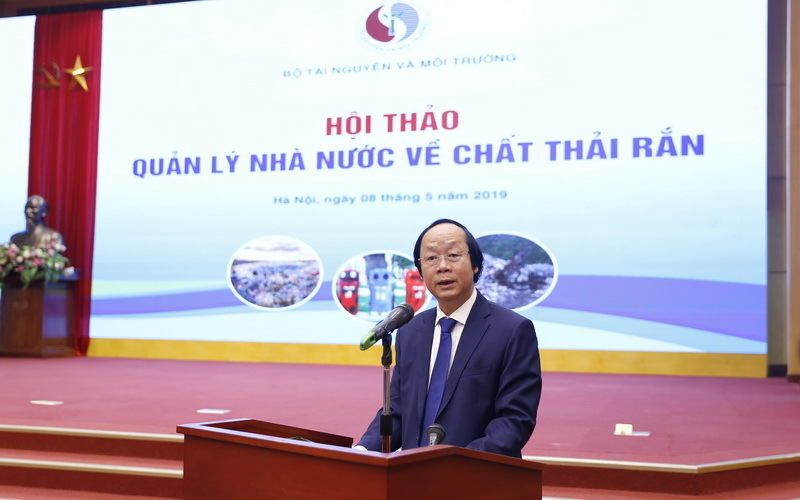 Deputy Minister of Natural Resources and Environment Vo Tuan Nhan makes speech at the workshop.
Deputy Minister Vo Tuan Nhan said Vietnam's fast growth of economy and population has resulted in a steep increase in solid waste, adding that effective state management is now a national urgent requirement amidst the mounting waste volume and shortcomings of current disposal methods.
Nhan cited reports of the departments of natural resources and environment of provinces and cities nationwide as saying that urban areas dump about 38,000 tons of solid waste per day and only 85% of those are collected, while rural areas discharge 32,000 tons, of which 40-55% are collected.
Vietnam is one of the five countries that discharge the most solid waste, about 13 million tons per year. Statistics from the Ministry of Natural Resources and Environment (MONRE) show that in Hanoi and Ho Chi Minh City only, about 80 tons of plastic and plastic bags are discharged to the environment each day. In Hanoi alone, plastic accounts for 7-8% of 4,000-5,000 tons of daily waste, Nhan stressed.
He said that the Vietnamese government assigned the MONRE to unify the state management of solid waste and chairpersons of the provincial People's Committees to be responsible for dealing with waste in their localities.
The deputy minister noted that in recent years, the management of solid waste in Vietnam has been assigned to different ministries and agencies, which are inconsistent from central to local levels. Although the rate of domestic solid waste collection increases every year, due to the large amount of solid waste and low awareness of community, it has been unable to fully handle the garbage while the state management in waste processing still exposes a lot of shortcomings.

Deputy Minister Vo Tuan Nhan emphasized that the MONRE has issued a plan and is actively implementing tasks to strengthen the state management of solid waste in Vietnam and raise the people's awareness of solid waste.
At the workshop, managers and experts analyzed and assessed the status of the state management of solid waste, learned experiences from some countries in the region and the world in sate management of solid waste.
In Hanoi, solid waste management work pertains to the Departments of Construction and Natural Resources and Environment (DONRE), resulting in overlapping of functions, said Deputy Director of Hanoi Construction Department Dong Phuoc An. He, therefore, suggested that the DONRE to take prime responsibility for handling solid waste in the capital city.
According to Do Thi Huong, deputy head of the Hai Phong Environmental Protection Department, hazardous waste and industrial waste have been managed by the natural resources and environment sector, there is still overlapping in management of other types of waste, causing difficulties for management, especially solid waste management in rural areas.
Huong proposed amending the Law on Environmental Protection to ensure consistency with the construction and bidding laws, and amending the functions of ministries to ensure consistency in management.
Huong's proposal is in line with the prime minister's instruction to the MONRE to take prime responsibility for dealing with solid waste, according to Deputy Director of the Environment Department Nguyen Hung Thinh, who told Hanoitimes that "Vietnam's localities have to strictly implement the government's directive. In particular, it is necessary to focus on solving urgent issues of local waste, mobilize resources of the whole society in collection, transportation and treatment of daily-life solid waste."
In the afternoon of the same day, a scientific workshop on "Management models and treatment technology of solid waste" was held to select appropriate management model and treatment technology for domestic solid waste in Vietnam in the time ahead.
The two workshops are practical basis for a national conference on solid waste which will be chaired by Prime Minister Nguyen Xuan Phuc in June 2019 to discuss guidelines and urgent solutions to solid waste management.
The conference will be a chance for the MONRE to propose models of management and technology for solid waste treatment in Vietnam, as well as learn experience in solid waste management from other countries such as Japan and South Korea. Hanoitimes