Prime Minister Nguyen Xuan Phuc has urged the Ministry of Information and Communications to take a step forward in digital transformation as the country will announce the national strategy on digital transformation in 2020.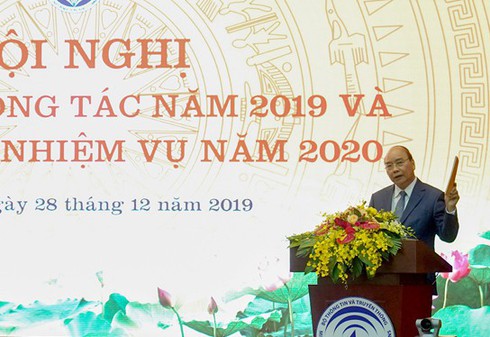 Prime Minister Nguyen Xuan Phuc delivers a speech at the meeting
In his speech at the year-end meeting of the Ministry of Information and Communications in Hanoi on December  28, PM Phuc called for greater efforts from businesses to take the way in digital transformation in media and publication sectors, especially creating services for other enterprises.
He also asked the Ministry to make a breakthrough in e-government in 2020, promoting connectivity and data sharing among ministries, sectors, and localities.
Looking back on the past achievements, the cabinet leader said according to the 2019 Integrated Index for Postal Development announced by the Universal Postal Union, Vietnam ranked 45th out of 172 countries, up five notches.
In telecommunication, the nation jumped to 50th place this year from 100th in 2017 in the Global Cybersecurity Index unveiled by the International Telecommunication Union (ITU). Vietnam also had the second lowest number of mobile malwares detected in Southeast Asia, only behind Singapore.

The sector's total revenue in 2019 is estimated to stand at US$ 135 billion, a year-on-year hike of 8.8% and it is destined to contribute more than US$43 billion to the State budget, up 23.4 percent from a year earlier.
The Government chief suggested adopting more technological advances in meetings during 2020, when Vietnam undertakes its role of ASEAN Chair.
Minister of Information and Communications Nguyen Manh Hung said the sector's outstanding achievement is the licensing of telecom and mobile companies to pilot the 5G network. Vietnam has become a leader in ASEAN in 5G commercialization.
After the one-year trial, more than 1 million subscribers successfully switched to the new network, reaching 82% of the total network switchers.
"The information and communications sector's events in 2019 have delivered strong messages and guidelines for a new period of development. The postal codes and goods delivery are capable of reaching out to 24 million households."
"Electronic mart will be available in every household and a widespread postal system will ensure the flows of e-commerce. 5G trial in 2019 and its commercialization in 2020 means that Vietnam from now on will keep abreast with the global technology and no longer be late for 7 or 8 years as with 3G or 4G technologies," the minister said. VOV