After two weeks of research, Associate Prof. Dr. Nguyen Sinh Hien has successfully developed a new technique for aortic valve repair and replacement.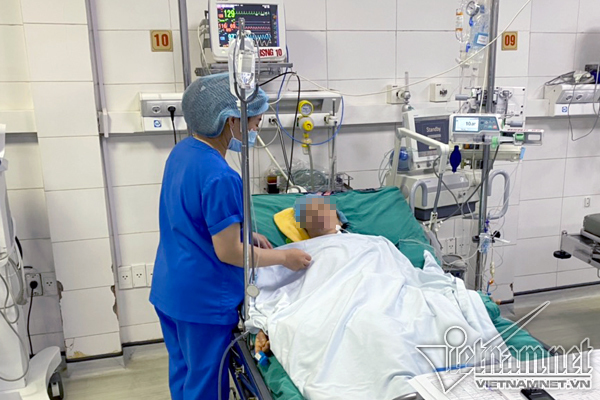 Two hours after the aortic valve replacement surgery at the Hanoi Heart Hospital, Mai Thi P, 59, from Ung Hoa district, was completely awake. Half a day later, she left the intensive care unit for regular medical treatment department.
After four days of surgery, P's health has recovered by 70 percent. She can eat and sleep well and expects to be discharged from hospital in one or two days.
According to Hien, because of the inborn defect in artery valve, the valve structure is susceptible, causing valvular heart diseases. Before the hospitalization, she suddenly had severe chest pain and fainted.
The patient received minimally invasive aortic valve replacement surgery, which allows for speedier recovery.
Hien said the hospital conducts about 1,000 surgeries to repair and replace heart valves (aortic and mitral valves)
There are two major methods used in aortic valve replacement surgery. The Hanoi Heart Hospital transcatheter aortic valve replacement) and some large cardiovascular centers apply TAVI (transcatheter aortic valve replacement). The method causes less pain and no scar. However, the cost is high, up to VND1 billion.
If patients suffer from AI (aortic incompetence), using classic open surgery is a must. Previously, surgeons would operate on the sternum, with 20-25 cm incisions. Many older people have osteoporosis, so the incision would be very slow to heal, posing the high risk of sternitis and increase in the mortality rate. The long incisions are visible.
In order to avoid the problems of the two methods, two years ago, Hien began collecting documents and searched for information on minimally invasive aortic valve replacement technique.
After two weeks of research, he set to prepare for the first surgery with the new method.
"It was really stressed and I had to prepare many things for the first surgery applying the new method to succeed. Luckily, everything went smoothly as planned," he said.
According to the expert, minimally invasive surgery is a tendency allows a cure, ensure aesthetics, and reduces complications. Minimally invasive aortic valve replacement technique has been used in developed countries for a long time, but rarely applied in Southeast Asia.
In developed countries, specific equipment is used for these surgeries. As Vietnam doesn't have such equipment, Hien and surgeons have to use the existing equipment they have.
With the new method, patients can be discharged from hospital after one week instead of 2-3 weeks under the old method. The operation cost is VND60-90 million.
The hospital last year conducted 40 surgeries with the new method. 
Thuy Hanh

Vietnamese doctors have successfully completed the country's first-ever pelvis transplant on a patient suffering from bone cancer.

A 48-year-old woman from HCM City lacked confidence around her friends after having half of her breast removed because of a cancerous tumour.