A new study of free-living soil nematodes co-authored by Vietnamese scientist Nguyen Thi Anh Duong was published in Nature – the world's leading multidisciplinary science journal.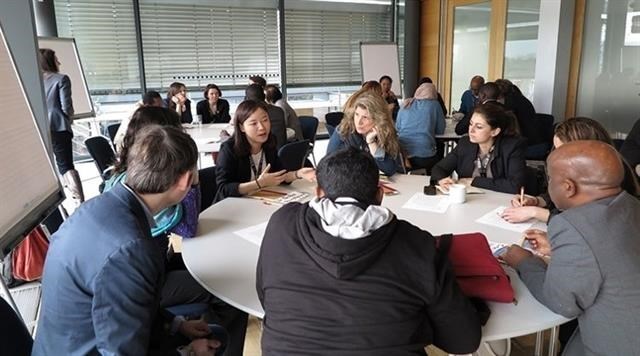 Nguyen Thi Anh Duong (third, left) discusses with her foreign fellows at an international seminar on sustainable development in Bonn, Germany, 2018. — Photo Courtesy of Ngyen Thi Anh Duong
Duong, who works at the Vietnam Institute of Ecology and Biological Resources, Vietnam Academy of Science and Technology, has conducted research and data collection, building a database of soil nematodes in Vietnam for over 10 years.
She has collaborated with 70 leading scientists in the field at 57 laboratories around the world to research and publish the work.
"Ecology research often focuses on visible parts of the ecosystem like large plants and animals, and overlooks tiny worms living in the soil, like nematodes. Despite their importance for ecosystems, few quantitative, spatially-explicit models of the active belowground community currently exist. That's why we wanted to study these most abundant animals on Earth," Duong said.
The study revealed that there are 57 billion nematodes for every single living human being – much greater than previously estimated. They also have a total biomass of about 300 million tons, approximately 80 per cent of the combined weight of Earth's human population.
Nematodes play a significant role in the recycling of carbon, nutrients and minerals in the soil. Nematode abundance is strongly correlated with soil carbon: where there are more worms, there is more carbon.
"We hope this is the first in-depth study of the role and function of these small and sensitive soil animals that contribute to predicting future climate change," Duong said.
"Soil nematodes can be a tool for testing ecological hypotheses and understanding biological mechanisms in soil because of their central role in the soil food web and linkage to ecological processes."
She hoped that with the results of the research, scientists can help in the fight against climate change.
"We hope this will help land managers make the right decisions in the fight to stop biodiversity loss and address climate change at a global level by identifying soil types that need to be recovered," she said.
For the study, researchers took 6,759 geo-referenced samples to generate a mechanistic understanding of the patterns of the global abundance of nematodes in the soil and the composition of their functional groups.
They used microscopes to analyse the density of each type of nematode and generate a representative global dataset. Using the information, they built models which predict nematode populations for each square kilometre and create the first global high-resolution maps of soil nematode density.
During her time collecting samples and data on nematodes in Vietnam, Duong had to travel to remote areas in national parks in mountainous areas.
"I've seen lots of snakes and insects when collecting samples in the forests. But the hardest part was analysing the samples in the lab, which sometimes took me up to six or seven months," Duong said.
Duong was the first female scientist at the Vietnam Academy of Science and Technology to have a study published in Nature.
She graduated as the valedictorian of the Department of Biology, Natural Resources and Environment at the University of Natural Sciences – Vietnam National University, Ho Chi Minh City.
She got her PhD in Biology at the University of Cologne, Germany, then returned to work at the Nematology Department at the Institute of Ecology and Biological Resources of the Vietnam Academy of Science and Technology.
In 2017, Duong won the 2017 Golden Globe Award for young people with outstanding achievements in scientific research awarded by the Ministry of Science and Technology.
Duong is the author and co-author of nearly 30 prestigious international articles, announcing 15 new species for science. – VNS/VNA