Launched at a time when demand is very high, Vietnam's video conferencing software products still cannot compete with foreign products in the home market.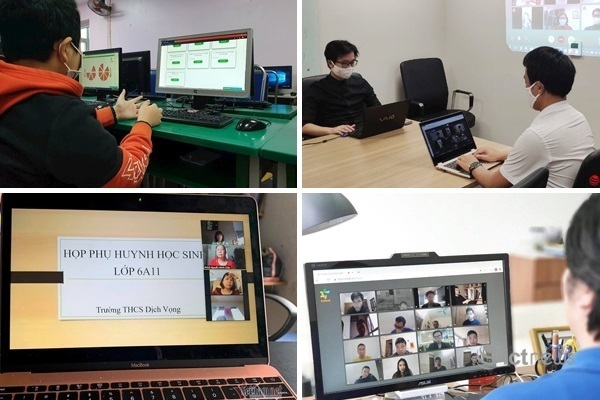 Teachers and students have become used to video conferencing software, but they still face problems during study. Students complain they sometimes are thrown out of class because of unstable internet connections.
Most schools still use Zoom for online teaching, though experts have warned of security problems and limitations in free versions.
Many online conferencing solutions have been developed by Vietnamese firms, including Zavi by VNG, CoMeet by CMC TS, NetNam, iWay, FDS and DQN, and TranS by Nam Viet.
CoMeet is a made-in-Vietnam software product with no interruption during conferences thanks to 100 percent use of domestic bandwidth with high customization features, tailored to every business.
However, despite the appearance of a series of Vietnam's video conferencing platforms, many schools and businesses still use Zoom, while others prefer Microsoft Teams or Google Meet to Vietnamese products.
The Zoom app ranks No 1 among the free apps on Play Store and App Store. Google Meet ranks second.
Zoom remains the top choice, though Vietnam's software products have outstanding features, high competitiveness and provide support in the Vietnamese language.
Zoom faced criticism when it was found leaking personal information of hundreds of thousand of users, transferring data to Facebook. It has been prohibited by the US and UK government agencies because of security vulnerabilities.
However, Zoom has been growing steadily with a record number of 300 million users daily compared with 10 million users before the pandemic.
Explaining this, experts said other software products either have too many barriers or are too difficult to use and are less known than Zoom.
For individual users, there are problems even more concerning than the security problem. The troubles students most complain about are the low-quality sound, blurred images and network lag. It is difficult to find out if these are caused by the computer/smartphone configuration, app/software or the transmission line.
As for businesses, if a company decides not to use Zoom, it has to persuade its partners not to use Zoom as well and re-install machines that serve video conferences.
Nguyen Hong Phuc, a security expert in HCM City, said that is why his firm still uses Skype when working with foreign partners.
Foreign platforms are still preferred in Vietnam thanks to certain advantages, including the high number of features integrated in platforms and the large ecosystem. 
Phuong Nguyen

Thai Van Thanh, director of the Nghe An Education and Training Department, said if there are favorable conditions, online teaching will bring big benefits, especially in remote areas.

Vietnam has been warned of great challenges when developing online teaching, but it believes that these can be overcome.