Vietnamese mobile phone manufacturers face severe competition, and struggling to retain market share, from foreign players across segments, experts warn.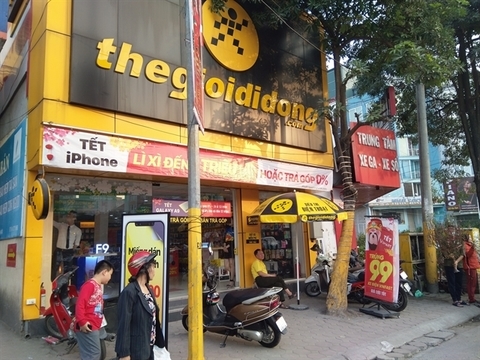 A The Gioi Di Dong store. Vietnamese mobile phone manufacturers are struggling to retain market share, from foreign players across segments.
Samsung, for instance, does not just sell phones but has built an entire manufacturing eco-system comprising South Korean and Japanese parts vendors.
There used to be dozens of Vietnamese brands, mainly in the lower-priced segments, but most were unable to survive.
According to retailers, seven or eight years ago was a good period for local brands with a number of them such as Mobiistar, QMobile, Masstel, Hkphone, and Bavapen in the market.
But within a few years many quietly left the market, and only a few are left to take on a number of strong foreign brands.
Once popular with consumers, Mobile Star Corp's Mobiistar threw in the towel last year.
Since entering the market in 2009 there were times when Mobiistar was among the top five brands with its market share peaking at nearly 10 per cent.
In 2018 it expanded to India, becoming the first Vietnamese phone to go global on a large scale. But a year later Mobiistar had to quit the Indian market.
Asanzo and QMobile, which too had been fairly popular, also gradually exited.
Masstel focuses on basic models costing as low as a few hundred thousand dong.
Bphone is at the other end of the spectrum, selling at prices not acceptable to a majority of consumers. The company plans to launch the Bphone 4 with computational photography in what might be its last throw of the dice.
A sales manager of a Vietnamese mobile phone company explained that the market was too competitive in terms of price, especially since cheap Chinese phones were flooding it.
To take on the Chinese phones, Samsung has to offer a range of segments going down to as low as just VND1.5 million.
Major retailers such as The Gioi Di Dong (Mobile World), and FPT Shop hoped Vinsmart, belonging to deep-pocketed Vietnamese conglomerate Vingroup, would find a firm foothold in the market.
Vinsmart launched its first four Vsmart smartphones in December 2018 after it acquired the patents for them from Spanish technology firm BQ, in which it owns a 51 per cent stake.
A Vsmart spokesperson said the local content in the company's phones would increase to 60 per cent by this year, and Vinsmart expects to grab a 30 per cent market share by this year.
The company has been launching many new models with promotions. For example, late last year Vsmart Live was sold at discounts of up to 50 per cent to gain market share.
Mobile phone distributors said Vinsmart was gradually increasing market share.
According to The Gioi Di Dong, in February Vsmart ranked third in sales in the below-VND4 million segment due to its attractive prices.
Recently Viettel announced that it would make and sell attractive smartphones for just VND1.5 million.
Viettel and Vingroup also announced they would collaborate to create an eco-system to enable production of cheap smartphones to take on Chinese brands.
According to global market research company GfK, last year smartphones costing less than VND3 million accounted for 20.4 per cent of the market share, equivalent to 2.99 million mobile phones.
On average, the total number of smartphones sold in Viet Nam is around 14.4 million a year, which makes it a very attractive market for mobile phone manufacturers, according to experts. — VNS

The mobile phone market is getting saturated and phone distributors must seek a new driving force for growth from other sectors.

Opening laptop centers is one of the plans implemented by mobile phone retailers to restructure their business as their core field no longer brings satisfactory profit.