From the original Android, VinSmart has created a new operating system – VOS - specifically tailored for the Vietnamese market.
According to Nguyen Minh Viet, head of the Mobile Device Research Institute, inSmart has mastered the ability to customize everything within the original Android in the best way for Vietnamese users.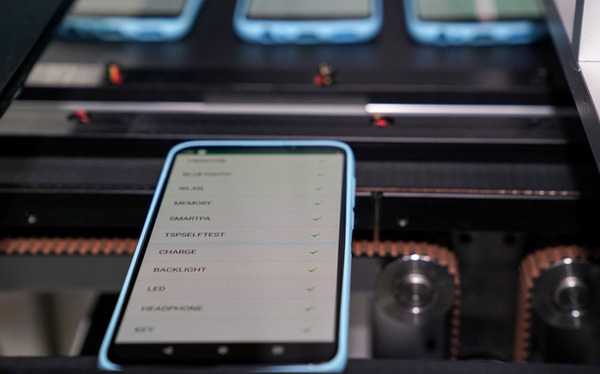 At first, the UI (User Interface) and UX (User experience) divisions learned how Vietnamese use mobile devices, what their usage habits are, carried out market surveys and gave the blueprints in both interface and interaction.

After that, the software technique division customized the original Android to create new features that only VOS has.

For example, the gesture swiping feature on Vsmart Live series is the convenient customization that only VOS has. The second special thing is the keyboard.

From the original Android, VinSmart has created a new operating system – VOS - specifically tailored for the Vietnamese market.
Meanwhile, the upgraded version of the the memory for temporary remembering OTP will be launched in the time to come, according to Viet.

Mastering the ability to customize and studying user habits, VinSmart has reprogrammed and integrated the three most important applications of a phone - calling, messaging and contacts - into one. The app would be introduced together with the next generation of Vsmart phone.

This is just like iMessage and Facetime on iPhone, but it can be used on all product series, not only Vsmart. It is end-to-end encrypted, completely secure and free of charge.

In particular, the operations that users regularly use, such as a 'refusing calls and then calling back immediately' and 'turning off and redialing' have also been integrated into one simple operation.

A series of utilities, including cameras using artificial intelligence, super app which allows to send message and make call for free, specifically designed for VinSmart's products prove to be great advantages that help the products be more competitive in the market.

The ability to take photos is one of the most important factors users will consider when deciding to buy a mobile phone.

Photography apps depend on the hardware, so manufacturers will have to develop a specific app for every mobile phone series so as to optimize the speed of camera. According to Le Tien Anh, director of VinSmart's Application and Solution Development Center, the R&D team has developed photography app using AI, IQ Tunning and special effects.

"When taking picture at night, the camera on Vsmart Live will take 8 photos at different exposure levels at once and combine them, using AI to create the best photos. It takes only one second to complete all these steps," he explained.

VinSmart has built a camera lab, the first in Vietnam and the 77th in the world which has its quality inspected by DxOMark, the world's leader in image quality measurement.
Thanh Lich 

With reasonable selling prices and Vietnamese brand, Vsmart's products are capable of dislodging Chinese brands from the Vietnamese market.