The government needs to seek help from the private sector to deal with the pollution problem, experts have urged.
A senior advisor in climate change to the Japan International Cooperation Agency (JICA) in Tokyo, Dr Kawanishi Masato, said that Hanoi and other large cities are faced with climate change and environmental degradation.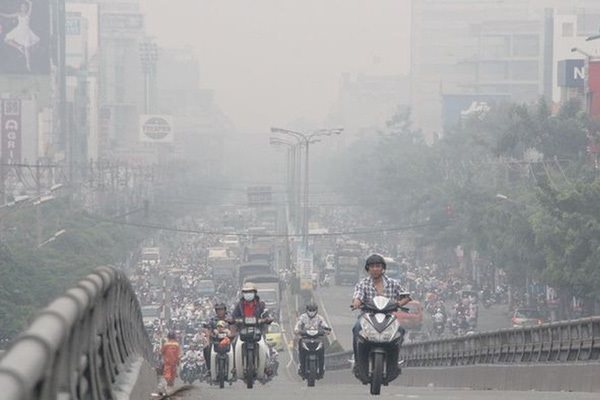 In recent months, Hanoi and HCM City have been listed among the cities worldwide with the worst air quality, according to AirVisual.

At some moments, the AQI (air quality index) in Hanoi was over 200, which means a dangerous level, and people were urged to stay indoors and restrict outdoor activities.
The air pollution in Vietnam is mostly PM 2.5 dust pollution. Direct contact with PM2.5 can lead to serious respiratory, cardiovascular and neurological diseases.
Gas emissions from vehicles, exhaust from factories and industries and air pollutants from construction sites are identified as the three main causes of the low air quality in Hanoi. 

The government needs to seek help from the private sector to deal with the pollution problem, experts have urged.
Experts believe that the PM 2.5 fine dust from coal-fired thermopower and cement factories in the industrial zones in Quang Ninh and Hai Phong are affecting the capital city.

Coal-fired thermal power is a big source of pollutants in many countries. Therefore, Vietnam has been advised to stop investing in coal-fired power plants in the near future. The high number of vehicles on streets and dust from the construction sites is also a problem in Vietnam.

Kawanishi said that Vietnam will need greater efforts from the government to protect the environment.

The creativity and innovation needed to solve the problem comes mostly from the private sector, he added.

"We hope the government of Vietnam will interact more with the private sector to encourage the most optimal solutions to environmental protection," he said.

Japan is vulnerable to climate change and has suffered from tsunamis and earthquakes. However, it has sought consultancy from the private sector in designing solutions to protect the environment and adapt to climate change.

"The private sector is part of the environmental protection programs in Japan," he said.

A report on Vietnam's economic prospects in 2020 by VISecurities showed pollution was a serious problem for the economy in 2019 and will be in 2020.

Rapid economic development and electricity shortages have led to unprogrammed development of coal-fired power plants, which have contributed to pollution. The import and use of outdated technology has also worsened the problem.
Kim Mai

The quality of air in HCMC is worsening due to emissions from the rising number of vehicles on the roads as the Lunar New Year holiday, or Tet, approaches, Thanh Nien newspaper reported.  

Students of Thanh Đa Secondary School in HCM City's Bình Thạnh District have greater awareness of air pollution and measures to prevent it after an air quality index monitor was installed in the school a few months ago.