In the past, two or three workers were needed to grow lingzhi mushrooms. But today, one person can undertake the work with just one smartphone.
Lingzhi mushrooms contain rare active ingredients helping health and supporting the treatment of many diseases.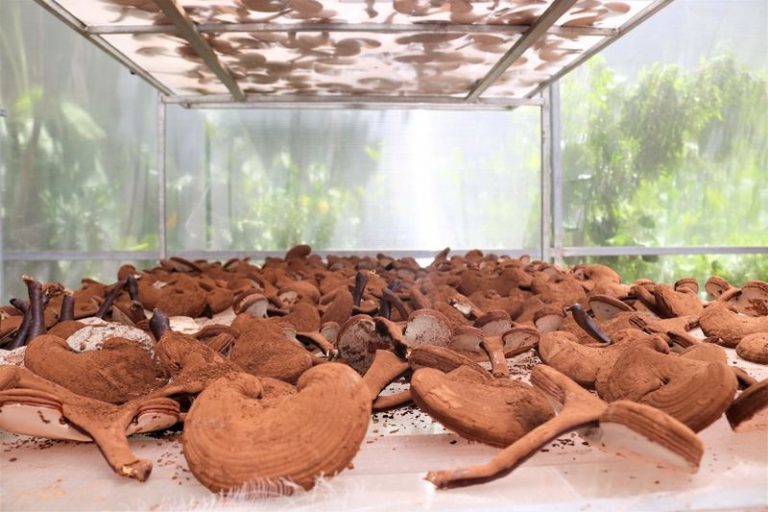 There are many lingzhi species, but red lingzhi, or Xich chi, Hong Chi or Don Chi in Vietnam, is believed to have the best effects.

Nguyen Hung Sinh's lingzhi mushroom workshop in Thoai Giang commune of Thoai Son district in An Giang province produces 50 kilograms each month, which brings a stable income of VND10 million.

Sinh began growing lingzhi mushroom 10 years ago. At that time, he grew mushroom in accordance with traditional methods. However, they were not strong or good, and the yield was modest.

In the past, two or three workers were needed to grow lingzhi mushrooms. But today, one person can undertake the work with just one smartphone.
 In 2016, he decided to apply technology transferred by the An Giang Department of Science and Technology.

The department transferred technology utilizing smartphones. Via his smartphone, SInh can control the humidity and temperature of the mushroom garden without going directly to mushroom farm.

"With the technology, the productivity has increased by 30 percent," Sinh said.

The factors that determine mushroom quality are temperature and humidity. The temperature should be set at 28-30oC, and humidity 80-85 percent.

If growing lingzhi mushrooms manually in accordance with the traditional method, at least two persons are needed to take care of lingzhi farms. The workers visit farms regularly and regulate devices to keep reasonable humidity and temperature.

However, since the technology has been applied, Sinh has controlled his mushroom farm from a distance. The number of workers has been cut.

"The greatest advantage of the technology is that there is no geographical limit. Wherever you are, you can control your farm, optimize the temperature and humidity scheme so that the mushroom grows evenly and has the best quality," Sinh said.

"The only thing you must not forget smartphone. You just need open the app so to control humidity and temperature and run machines with the ready-set programs," he said.

The system allows connections both via internet and SMS. If growers are in areas with no internet connection, they still can control farming via messages.

After 10 years of farming, Sinh now has a large lingzhi mushroom farm covering an area of 400 square meters. Mushroom houses are covered with nets to avoid harmful insects.

Besides selling lingzhi mushrooms for medicinal purposes, Sinh also extracts mushroom to make cosmetics. 
Mai Lan

Vietnam ranks among the top 3 rice and coffee exporters in the world, and its vegetable and fruit exports are expected to reach $10 billion prior to 2025.

He is the first San Chay ethnic to gain great scientific achievements in herbal medicine development. He conducts research every day and goes to mountains to exploit the 'golden mines of herbs'.