The Ministry of Health and Ministry of Information and Communications have joined hands with TikTok to create an official account called @ICT_anti_nCoV that provides the latest information about COVID-19.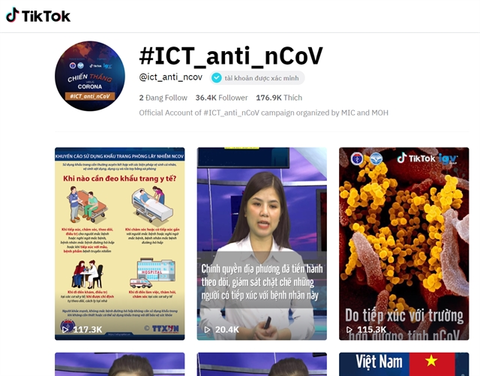 A new TikTok channel has been launched to prevent misleading or false information about COVID-19.
The ministries decided to co-operate with TikTok to correct misleading or false information about COVID-19.
TikTok will publish at least one to two videos per day and keep users updated with all the latest news as well as share recommendations and health protection knowledge from authorities. Equipped with the proper information, users will be able to better protect themselves and their communities.
The sources of information published by @ICT_anti_nCoV are the Ministry of Health, the World Health Organisation (WHO) and all local authorities.
With short videos lasting from 15 to 60 seconds, viewers can learn about the status of the disease conveniently and quickly whenever and wherever they are.
All of the videos contain lively graphics effects and illustrative images, delivered by a professional MC, making it even easier for people to keep up with the news.
Since the first day TikTok started to update information on COVID-19, the channel has attracted over 3 million views, and more than 176 thousand likes and 36 thousand followers.
The figures reflect the high concern of the community towards the disease.
As a short-video platform with a massive number of users around the world and in Viet Nam, TikTok has been co-operating with authorities in the mission to provide a legitimate channel delivering accurate information to the community.
"As a platform that connects and interacts with millions users per day, TikTok Vietnam is taking immediate and practical actions to stop misinformation and false news about COVID-19 through collaboration with the Ministry of Health and the Ministry of Information and Communications. If the community can access a trustworthy source of information, they can be protected from the COVID-19, reducing the possibility of contagion. We hope that @ICT_anti_nCoV will be another trustworthy channel for users to count on, fighting against false information in the period of information crisis," said Nguyen Lam Thanh, head of public policy at TikTok Vietnam.
Besides the official channel, TikTok has set tight restrictions on content published by users about COVID-19 on its platform in an effort to guarantee that all the information must be trustworthy and traceable. The information is provided by the Ministry of Health, WHO and local authorities.
TikTok is the leading destination for short-form mobile video. TikTok's global offices include Los Angeles, New York, London, Paris, Berlin, Dubai, Mumbai, Singapore, Jakarta, Seoul and Tokyo. — VNS
Political ads clash with its "positive, refreshing environment," says Blake Chandlee, Tiktok's vice president of global business solutions.

Fear of the coronavirus infection is being leveraged by cybercriminals for their malicious activities, new research shows.