Regional cooperation to preserve the marine environment and ensure sustainable fisheries management and food security in ASEAN will be the focus of discussion at an international workshop to be held in Nha Trang from May 13-15.
Vietnam takes action to reduce plastic waste
Marine plastic pollution requires international cooperation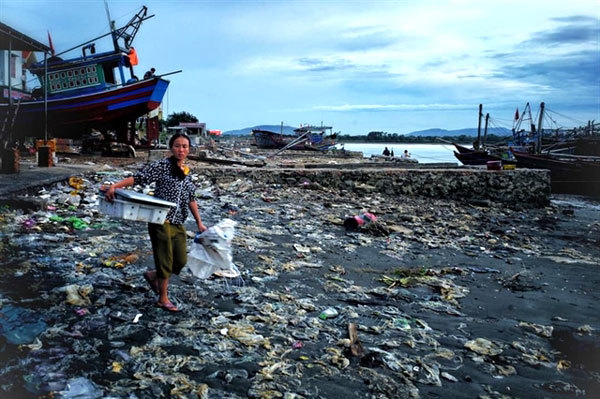 A woman walks on a beach covered with trash in northern Vietnam. VNS Photo Viet Thanh
The event will highlight the effect of marine plastic pollution on aquaculture and coastal and regional fisheries. International delegates will discuss challenges, best practices and opportunities for cooperation to preserve the marine environment and ensure long-lasting sustainable fisheries management and food security in the region.
More than 90 representatives from the ASEAN Regional Forum (ARF) are expected to attend the workshop, co-chaired by the governments of Việt Nam, the US and Thailand, as approved by the 25th ARF Ministerial Meeting in Singapore last August.
Key environmental ministries and institutes, regional fisheries management organisations, Global Ghost Gear Initiatives, non-governmental organisations and think tanks are encouraged to take part.
Plastic pollution is now the most dangerous pollution in the world's ocean, according to the US Consulate in HCM City.
Marine plastic debris becomes entangled in abandoned nets, and fish ingest plastic pieces by mistaking them for food. Microplastics that enter through filter feeding are also ingested by fish and other marine life, the consulate said.
Plastic debris is often contaminated with other chemicals, which can infiltrate into the tissues of marine animals. Toxic concentrations can increase in marine animals, from the bottom of the food web (zooplankton) to the largest predators at the top of the food web, such as billfish or tuna, and then may be dangerous for humans who eat seafood.
The plastic debris can also transport invasive species, causing changes in species composition or even extinction of other species in ecological systems.
Approximately 12 per cent of the world's population relies upon fisheries and aquaculture for their livelihood, while over half of the world's people get a significant source of their animal protein from fish and seafood, according to the US Consulate.
In Southeast Asia, the proportion of people engaged in and dependent upon this sector for their livelihood and nutritional security is even higher.
Marine plastic pollution crosses national boundaries and poses a regional security problem that is impossible to solve without regional cooperation.
Addressing marine pollution in Southeast Asia requires effective domestic policies and legislation to manage resources within each country's exclusive economic zone, and cooperation to ensure that one nation's waste does not impact its neighbours.
Both ASEAN and the East Asia Summit are working on a regional action plan on marine debris. In addition, the UN Environment Programme is funding a similar regional action plan through the Coordinating Body on the Seas of East Asia, which is the UN Regional Seas programme for the region.
The ASEAN Conference on Reducing Marine Debris in ASEAN Region, hosted by Thailand in 2017, created positive momentum for continuing the discussion and promoting opportunities for regional cooperation.
The summary report noted the "urgent need for a collective and coordinated action among ASEAN Member States and partners to address the marine debris pollution in the region" due to the transboundary nature of the issue.
The East Asia Summit plans to issue a Leader's Statement on marine plastic debris that was created in November.
Southeast Asia's marine environment and fisheries are a vast and valuable resource, and sustainable management is imperative to ensure food, economic, social, and environmental security of each country as well as the region as a whole.
VNS