The Ministry of Natural Resources and Environment's (MONRE) tests show that the water of Hanoi's West Lake is polluted.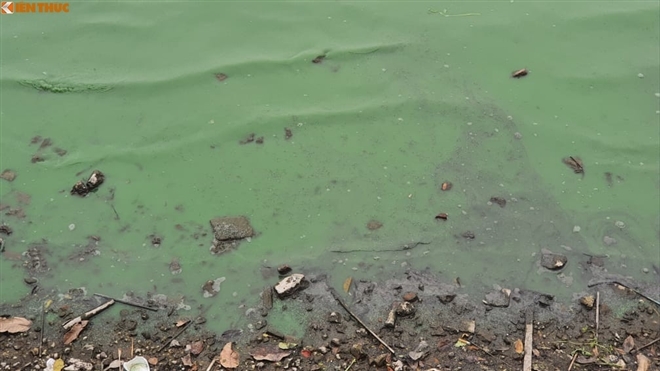 West Lake's water has turned a moss green color. Photo: Kien Thuc
MONRE recently released an announcement on the pollution of Hanoi's largest lake after its water suddenly turned a dark moss green color, which sparked public concern.
MONRE conducted tests of the quality of West Lake's water that showed that many indicators of the water exceeded national technical standards on surface water quality, high biomass, and density of plant cells (mainly genera cyanobacteria Microcystis, Alphanocapsa, Merismopedia and groups of green algae Scenedesmus, Crucigena,…).
The Ministry has asked Hanoi authorities to urgently take measures to improve the quality of West Lake's water to ensure that the water meets national technical standards on surface water quality and to maintain the balance of the lake's ecosystem.
In addition to the environmental parameters that have been observed through the automatic and continuous monitoring system, MONRE asked Hanoi to strengthen periodic and unannounced monitoring of the lake water; and to regularly collect and evaluate data, particularly parameters such as pH, temperature, DO, COD, TSS, TDS, ammonia and algae density, to detect abnormal phenomena and to have timely measures to deal with them.
The Ministry also requested Hanoi to develop a plan to replenish water sources in the lake in case of prolonged dry weather, ensuring minimum water levels to maintain a stable ecosystem in the lake; regularly collect waste in the lake; and dredge sediments to improve water storage capacity of the lake.
The 500-hectare West Lake is the biggest natural lake in the capital city with the encircling road nearly 20 kilometers in length.
Historical records show that the lake was once part of the Red River. It has had several names such as Dam Dam (Mist Lake), Kim Nguu (Golden Buffalo) and Xac Cao (Fox Corpse). Each name is associated with a legend. The surrounding road is picturesque and shaded by green trees all year round. When seen from above, West Lake is the shape of a pincer.
What makes West Lake special is that its water changes color from green to gray depending on the weather. The lake becomes most beautiful when the sun goes down and street light shadows play upon the water.
There are numerous religious sites around West Lake such as Tran Quoc pagoda, Quan Thanh temple and Tay Ho pagoda. All are popular venues for local prayers during Tet holidays and the first and 15th days of a lunar month. People come to admire the Buddhist architectural style and pray for good luck and happiness.
The lake's surrounding ponds are loved for its lotus flowers blooming in May and providing the ingredient for the famous West Lake lotus scented tea. It is also well known for its many flower villages, such as Nghi Tam and Nhat Tan peach blossom villages.
Thai Binh

The water quality in Hanoi's West Lake has improved after being treated using Japanese nano-bioreactor technology.