The Da River water plant was found to have flushed thousands of cubic metres of raw wastewater used to cleanse their tanks to the environment, days after it was involved in a polluted water scandal, reported Hanoi's environment authority.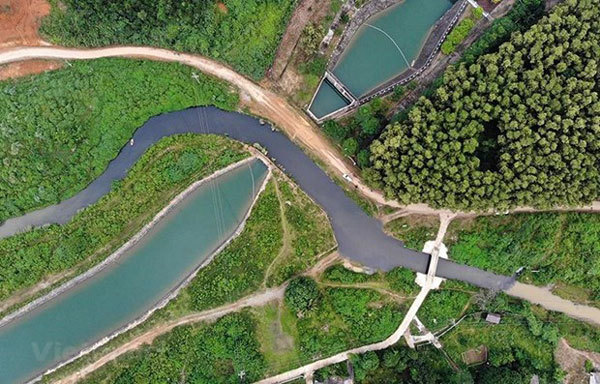 A bird's eye view of the oil pollution in the water source of the Da River Water Plant. — VNA/VNS Photo
The report by the Department of Environment and Natural Resources has prompted Hanoi People's Committee to issue a warning to the Da River Clean Water Investment JSC, Co on Monday.
It demanded the water company to "seriously monitor and operate the intermediate storage tanks in line with regulations to ensure social security and environmental hygiene".
According to the environment department, the company had two intermediate water tanks located in Duc Village, Thach That District, Hanoi to contain filtered water piped from the Da River water plant in Hoa Binh Province.
The company suspended pumping water into the tanks in question after having detected traces of oil polluting the water source in Hoa Binh on October 9.
The tanks stayed dormant the whole time during the water crisis that affected at least 250,000 households in the western districts of the capital city, according to Hanoi's authorities.
It was not until test results came back confirming that the water was safe again to use on October 18 that the water plant started cleansing the tanks before pumping new water in.
The report said that the wastewater from the cleansing amounted to between 2,500 and 3,000 cu.m. It was then discharged directly into the Dong Bai stream without going through any treatment process on October 21.
Though the cleansing did not involve any chemicals, according to the company, it was unclear if the wastewater might contain oil left in the tanks in the initial days of the crisis.
The environment department said that the water company failed to analyse the wastewater quality before flushing it to the stream.
It also failed to inform the authorities and the residents in the neighbourhood during and after the cleansing.
"If lab test results on the sewage samples find pollution criteria surpass standards, the city People's Committee will grant the authority to the Thach That District People's Committee to levy an administrative fine in line with regulations," announced the Hanoi People's Committee.
The committee also demanded the Da River water company to stop releasing its wastewater into the Dong Bai stream and find another destination for its sewage output.

The water plant at the centre of a pollution crisis in Hanoi on Friday made an official apology to thousands of customers, promising them a month's supply for free.  

Recent reports of contaminated tap water have caused great public concern across Viet Nam, the latest issue for investors in a sector the State is divesting from.  
VNS