Many species of rare turtles are in danger of extinction due to illegal trading in Vietnam.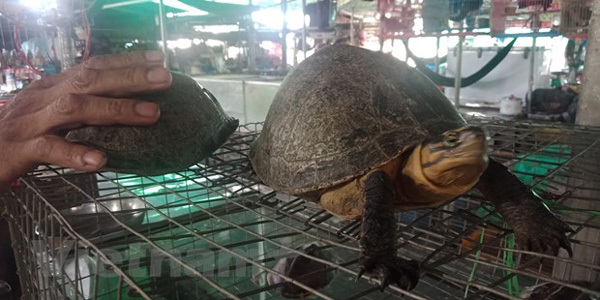 Wild turtles traded publicly in Tam Nong Market in Dong Thap Province.VNA/VNS Photo Hung Vo
In the Cuu Long (Mekong) Delta region, turtles are being sold as pets and for their meat, with many people thinking owning a turtle or eating one, brings good luck.
Turtles are openly traded at markets in Long An, An Giang and Dong Thap provinces.
In Tam Nong food market in Dong Thap Province, many species of turtles, including Mekong snail-eating turtles which are listed in the endangered Vietnam Red Data Book, are sold alongside snakes and wild birds.
Despite being close to the National Bird Sanctuary and Lang Sen Nature Conservation Area, trade is busy on the market with meat selling for VND500,000 (US$26) per kilo.
One seller even claimed the turtles were taken from a nature reserve.
"These were rare turtles which were caught in the sanctuary," said a shop owner.
"People bought small turtles to raise as pets and the bigger ones for cooking special dishes," she said.
"I could supply as many customers as I wanted. I also have a shipping service to other provinces and HCM City," she said.
Unlike people in the Cuu Long Delta, those in the northern region preferred using the reptiles for cooking a concentrated paste from bones.
Wild animal bone paste is a common traditional practice in Vietnam cooked from bones of tiger, lions, turtles, cobra, horse and deers.
Some people believe the paste is good for health, especially male virility, and could even cure some diseases.
The turtles used for this are sa nhân (scientific name: cuora mouhoti) and big-head (scientific name: platysternum megacephalum) which are both on the endangered list of reptiles.
Poachers use dogs to catch the reptiles in Ba Be National Park and Tat Ke-Ban Trung Nature Conservation Park in Tuyen Quang Province.
The act of catching and killing endangered animals may be criminally handled or administratively sanctioned depending on the value of material evidence, said Bui Thi Ha, vice director of Education for Nature – Vietnam (EVN), a non-government conservation and environmental protection organisation.
In cases worth more than VND150 million (US$6,500) or make a profit of VND50 million (US$3,170) or more, violators could be jailed for up to 12 years.
Anyone caught with less than those figures face fines of up to VND300 million (US$13,000), Ha said, adding that despite tough sentences, poaching is still rife due to high demand.
Between 2013 and 2017, only 15 cases were prosecuted.
Reptiles caught are not only sold in Vietnam, many are also shipped to China where turtle consumption is huge.
According to experts, the serious situation of the illegal trade of rare animals was due to legal loopholes.
The Vietnamese law does not allow hunting or trade of endangered animals, but it does allow turtles to be raised in commercial farms.
As a result, farm owners may trade animals which actually have been caught in wild but claim they are commercially bred.
The overlap of laws and decrees in the legal system of Vietnam also prevented enforcement agencies from taking action.
To confront the situation, conservation experts suggested it was necessary to change consumption behaviour and improve awareness.
Knowledge on natural conservation and wildlife protection should be provided to law enforcement staff at local levels.
And commercial farms should be encouraged to engage into rare animal breeding activities which help the wildlife conservation be sustainable. – VNS

Sea turtles lay about 100 eggs a few times each year, but the survival rate of the species is approximately 1 out of 1,000.

Vietnam remains a hot spot for wildlife hunting and trafficking despite efforts to curtail it.