The World Wide Fund for Nature (WWF)-Vietnam and the Centre of Biodiversity Conservation, GreenViet, will work together on a project to protect the gray-shanked douc langurs in the central province's Nui Thanh District in 2020.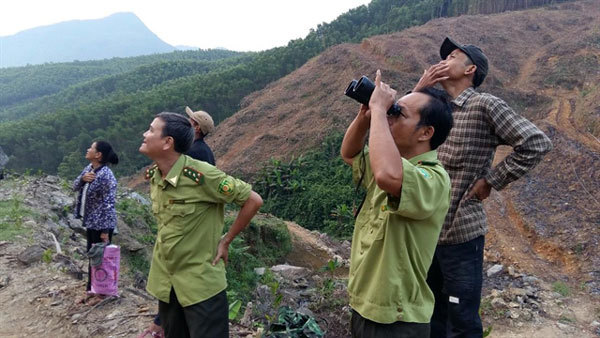 A joint-patrol team of rangers and locals check a habitat of the gray-shanked douc langur -- an endangered primate -- in Nui Thanh District of Quang Nam Province. WWF-Vietnam and GreenViet agreed to work together in protecting the primates. VNS Photo Cong Thanh
Director of GreenViet, Tran Huu Vy, said the one-year project would help improve forest patrol skills to protect a herd of gray-shanked douc langurs (pygathrix cinerea) – a critically endangered species – living in Dong Co Village of Tam My Tay Commune.
The project, with funding of VND350 million (US$15,000) from WWF-Vietnam, will help provide knowledge and skills for a team of 10 volunteers from the village.
"It is a significant effort made by the community to protect the endangered primates. They (local villagers) patrolled the 30ha primary forest area – where the primates live – following irregular visits at nearby log farms," Vy said.
"We provided equipment, the Spatial Monitoring Reporting Tool (SMART) for conservation and protection of wildlife, data recording during jungle trips over a total of 150ha of protective zone," he said.
He added the project would include improving awareness among the community and illegal hunters on wildlife and protection of biodiversity.
A fire-free zone was set up on a 70ha log farm – a safe habitat for the gray-shanked douc langurs, he added.
Chairman of the provincial people's committee, Le Tri Thanh, said the province had been seeking a fund of $4.4 million to restore a 100ha area as a safe habitat for the gray-shanked douc langurs.

Currently, the herd of the langurs has gathered in a 10ha-area of primary forest due to the development of acacia log farms.
According to a report by the provincial Forest Protection Division, a herd of about 50 gray-shanked douc langurs was found living in the area in 1997.
The local community and district rangers established a voluntary team to protect the endangered primates from being hunted.
According to Dr. Ha Thang Long, head of the Frankfurt Zoological Society, some 1,000 gray-shanked doucs have been found in forests of five provinces, including Quang Nam, Quang Ngai, Binh Dinh, Kon Tum and Gia Lai.
The gray-shanked douc langur is listed on the International Union for Conservation of Nature red list as one of the world's 25 critically endangered primates. — VNS

The forest ranger department of Quang Nam has been assigned to strictly protect 30ha of remaining natural forests in Nui Thanh district and crackdown on illegal poaching to save the endangered gray-shanked douc langur.

Quang Nam is seeking solutions for the conservation of critically endangered primates living in a primary forest, while creating stable livelihoods for log farmers in Tam My Tay, home to 50 endangered grey-shanked douc langurs.