Nearly 300 young people took part in a campaign to clean rubbish along more than 2.5km of seashore in Ha Long City on Sunday.
Rubbish-covered beach in Ha Long crowded on holiday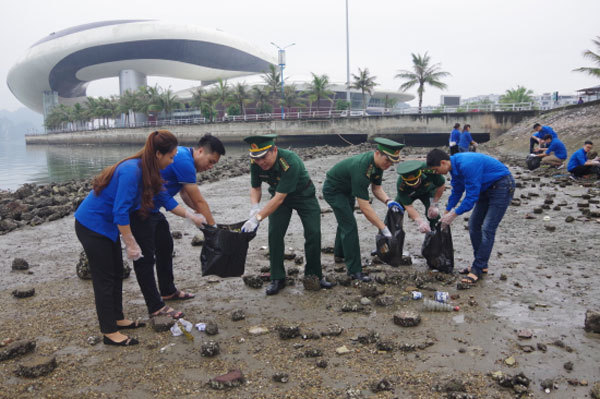 Border Guards and youth volunteers collect rubbish along the sea in Ha Long City. — Photo bienphong.com.vn
The young people are from the Quang Ninh Border Guards and youth unions in the city.
The campaign was held in response to the Quang Ninh-Ha Long Tourism Week 2019.
About three tonnes of trash was collected and brought to proper areas for disposal.
In a similar approach, the Soc Trang Border Guards, in co-ordination with the Vinh Chau Town authorities, launched a campaign to clear the seas on Saturday.
Speaking at the launching ceremony, colonel Le Van Anh, deputy political commissar of the provincial Border Guards, called for local young people and students to take part in the campaign with practical actions including collecting rubbish, disseminating the importance of the seas, and encouraging residents and tourists not to throw rubbish away.
The volunteers will also spread information on laws of the seas and islands, and the Government's decrees on punishing violations related to environmental protection.
After the launch ceremony, nearly 200 volunteers collected rubbish along two kilometres of the Vinh Chau Sea.
VNS