Two months before leaving for Denmark to study for a doctoral degree, Nguyen Phuoc Lap was part of a research team in South Korea to seek a drug that prevents SARS-CoV-2 proliferation.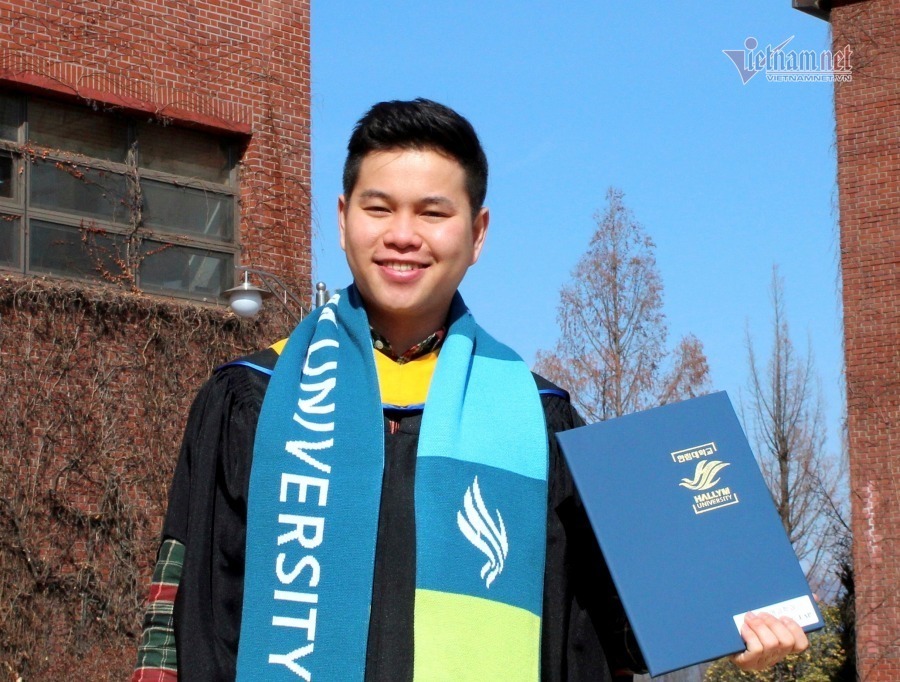 Nguyen Phuoc Lap
After graduating from Can Tho University in 2008, Lap worked in the biomedical industry in HCM City for two years. However, realizing that the knowledge he received from university was still modest, he decided to study abroad.
Two years later, after obtaining a master's degree at Hallym University in South Korea, he decided to stay in the country and work as a researcher at Jeonbuk National University for three years before seeking a scholarship to study for a doctorate.
During the five years in South Korea, Lap published eight articles in ISI-Q1 journals. He was the first author of three and the co-first author for the others.

His research focused on virology , especially the virus causing Hepatitis C.
When the Covid-19 pandemic broke out, Prof Soon Bong Hwang from the Lab for RNA virus-caused diseases invited Lap to join his new research project on SARS-CoV-2.
At that moment, he was informed that he had received a scholarship to study for a doctorate at the University of Copenhagen and would leave after two months. But he still agreed to join the research team.
The virus causing Hepatitis C and Covid-19 are correlated in genetic material. The researchers thought the drugs that used to treat Hepatitis C virus could be applicable to the treatment of Covid-19.
The team began using known drugs to test the SARS-CoV-2 virus. Lap's task was creating pseudoparticles mimicing the structure of SARS-CoV-2, and learning if the drugs could help inhibit the proliferation of SARS-CoV-2 virus. After that, the team tested on real viruses at a third-level biosafety lab.
After eight months, the team found that Asunaprevir, a hepatitis C antiviral drug, can significantly block the reproduction of SARS-CoV-2 virus.
The research results were published in Molecules and Cells on September 14 which showed that Lap was the second author.
But the article was just the start. The team is continuing the research, testing on animals, and holding clinical trials.
In January, Lap went to Copenhagen to study for his doctorate in Biomedical Science. His current research relates to the molecular mechanism of pathology, with focus on carcinogenesis, to find drugs that can inhibit the development of cancer causing cells.
"mRNA technology is used to produce vaccines against Covid-19. Scientists are also considering using technology to treat cancer. I believe this is a research direction with potential," Lap said.
He said he wants to try many different fields and the postdoc period will be the time for him to find his greatest strength.
Every day, after getting up, the first thing he does is access the internet and read information about his research field. The information may suggest new ideas, he said. 
Thuy Nga

Dong Ngoc Ha, a first year biological science student at the Hanoi University of Science (Vietnam National University), has been named among the Top 50 Finalists for the Global Student Prize 2021.

Luu Nguyen Nguyet Minh is working on sustainable solutions to help solve Mekong Delta's problems.