Nearly 1.1 tonnes of firecrackers have been seized in Yen Bai Province by the police, said lieutenant colonel Nguyen Manh Thang yesterday.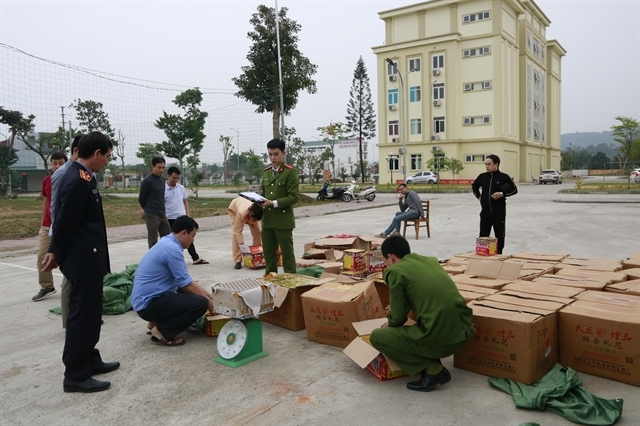 The police check the firecrackers.
Thắng, who is an official of the Traffic Police Department under the Ministry of Pubic Security, said the department worked with the Van Yen District Police in the northern mountainous province of Yen Bai on the case.
At about 4am last Saturday, after receiving a report from local residents, police discovered nearly 1.1 tonnes of firecrackers hidden in a lorry driving on the Nội Bài-Lào Cai Expressway.
The lorry driver Pham Quang Thanh, 37, admitted to police that he was hired to transport the firecrackers to Vinh Phuc Province.
Police seized three others for questioning in regards to the case, namely Giang Mi, 30, in Lao Cai Province and Tran Van Ha, 48 and his son Tran Van Luong, 25, who were hiding in Vinh Phuc Province. — VNS