The Vietnamese Ministry of Health on May 2 informed that up to 1,126 emergency cases were referred to hospital due to fighting during the five-day holiday which lasted from April 27 to May 2.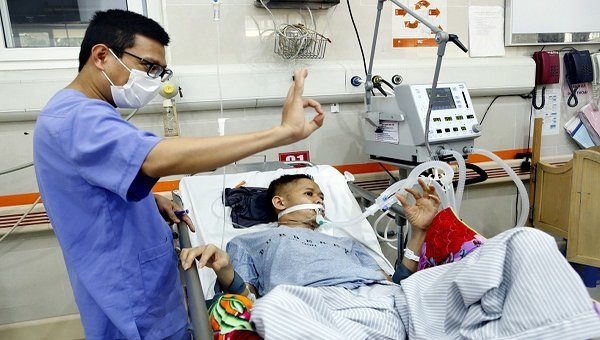 Emergency care for patients at Bach Mai Hospital.
According to Director of the ministry's Medical Services Administration Luong Ngoc Khue, the statistics show that besides the above-mentioned number, 9,798 were hospitalized due to traffic accidents, 891 cases due to food poisoning and two emergency cases due to firecrackers.
Among emergency cases caused by traffic accidents, there were 3,447 patients with mild injuries treated and discharged within the day, 2,906 victims were hospitalized for treatment, and 52 deaths.
In addition, there were 79 cases of alcohol poisoning, 92 people hospitalized for home-made food poisoning and other 476 people due to food-related causes.
Hanoi-based Bach Mai Hospital provided emergency treatment for 150 heavily ill patients per day, the same number of emergency cases compared to the normal day. The patients were hospitalized mainly due to cardiovascular, blood pressure, respiratory, stroke, septic shock, stroke, alcohol-related gastrointestinal bleeding, acute liver failure.
Khue said that the most serious case was 25 people suffocated by gas in the southern province of Can Tho. Most workers have been cured and discharged from hospital, only four patients with more serious health issue are being treated at the Central General Hospital of Can Tho. Hanoitimes