A total of 10 Chinese nationals have been arrested in Hai Chau district, Danang, for entering illegally into Vietnam, according to a statement made by local police on October 10.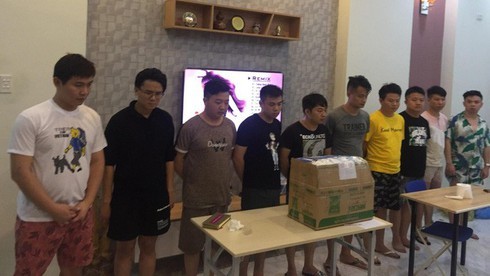 10 Chinese nationals are arrested in Hai Chau district, Danang ((Photo: Huong Tran/Nguoi Lao Dong)

Police forces launched a search of a house at 105 Nguyen Lo Trach street, Hoa Cuong Nam ward, at 20:20 on October 8. The raid uncovered 10 Chinese nationals who had entered the country by road illegally in late September.
The individuals were identified as Wu Wen Wei, Wu Wen Be, Wu Jian Xiong, Su Wei Long, Wang Liang Gui, Wo Weizdong, Wu Liang Cai, Wu Shi Ren, Wu Liang Hui, and Kang Tie Hui.
After being questioned at the scene, the suspects were unable to present their identification documents and showed a number of suspicious signs.
Upon a search of the premises, police were able to seize five laptops, 11 phones, one USB stick, and five WI-FI transmitters.
The case is currently under further investigation. VOV

The Department of Natural Resources and Environment in Danang City said on September 20 that two firms with Chinese involvement own the rights to 21 coastal land lots in the central city.

Customs agencies have recently discovered many batches of Chinese products bearing "Made-in-Vietnam" labels.