Vietnam had confirmed 204 COVID-19 cases as of 6:00 on March 31, with the latest patient a 10-year-old boy living in Ho Chi Minh City's District 2, according to the Ministry of Health.
The boy flew from Prague (the Czech Republic) to Istanbul (Turkey) on Flight 1770 on March 14, and from Istanbul to Vietnam on Flight TK162 on March 15 - the same flight as the 83rd patient.
Upon entry, he showed no symptoms and was transferred to a concentrated quarantine centre at the Military School of Military Zone 7 in HCM City's District 12. His test on March 18 turned up negative for SARS-CoV-2 that causes the COVID-19 pandemic.
However, the test result on March 27 was positive. Currently, the boy is being treated at the hospital for COVID-19 in Can Gio district, HCM City.
Earlier, nine people were confirmed positive for SARS-CoV-2 that causes the COVID-19 pandemic on March 30 evening.
Among the new patients, seven, aged 41, 34, 53, 57, 61, 23 and 57, are female employees of Truong Sinh Ltd., Co and work at the canteen of Hanoi-based Bach Mai Hospital.
Another patient is a 41-year-old man in Hanoi's outskirts district of Thanh Oai who visited the centre for tropical diseases of the Bach Mai Hospital on March 12 and tested positive for the virus on March 29.
All of the eight patients are under treatment at the National Hospital for Tropical Diseases No. 2 in Hanoi's Dong Anh district, and in stable health condition.
The other is a 35-year-old Vietnamese woman who boarded flight TK162 from Greece after transiting in Turkey to Tan Son Nhat International Airport in Ho Chi Minh City on March 17.
Upon entry, she was sent to a concentrated quarantine facility in Nha Be district in the city. Her samples, sent to the city's Hospital for Tropical Diseases on March 27, were confirmed positive.
She is being treated at the hospital for COVID-19 in Can Gio district, HCM City.
31 COVID-19 patients test negative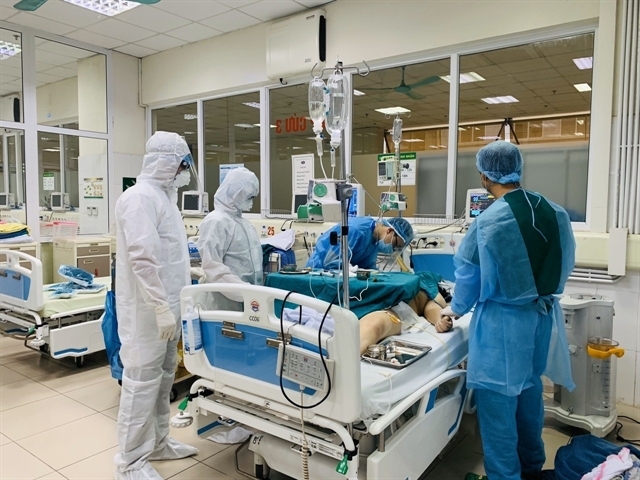 A COVID-19 patient with serious illness is treated at Central Tropical Diseases Hospital's branch 2 in Hà Nội's Đông Anh District.
Among 149 COVID-19 patients currently under treatment in hospitals across Việt Nam, 31 have tested negative for SARS-Cov-2 virus more than twice, the Ministry of Health announced on Tuesday morning.
It is expected that two patients – the 49th patient treated in Huế Central Hospital and the 54th patient in HCM City's Cần Giờ Hospital – will soon be transferred to other hospitals later Tuesday as they have recovered.
Lương Ngọc Khuê, head of the ministry's Department of Medical Examination and Treatment, said that up to Tuesday morning, the four COVID-19 patients with the most complications at the Central Tropical Diseases Hospital in Hà Nội were progressing well, despite them still being on ventilators. There are 53 COVID-19 patients being treated at the hospital now.
Four healthcare workers including two doctors of the hospital and two nurses of Bạch Mai Hospital were also in stable condition.
On Tuesday morning, the latest patient to test positive for COVID-19 in Việt Nam was a 10-year-old boy, which brought the total number of cases in the country to 204.
As of Monday, 16 people infected with the disease from January 23rd to February 13th and 39 other patients since March 6th have made full recoveries.
HCM City to strengthen fight against COVID-19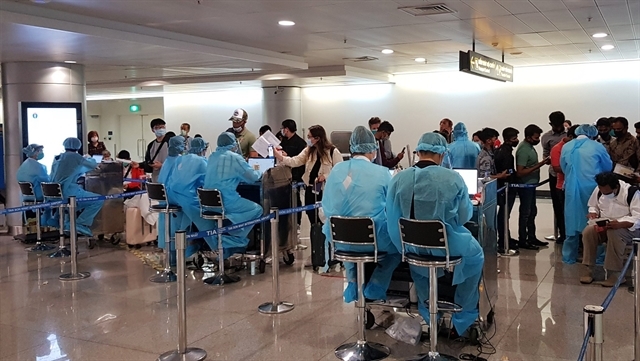 COVID-19 prevention and control efforts at Tân Sơn Nhất International Airport in HCM City.
HCM City authorities plan to strengthen the fight against the COVID-19 pandemic in the next two weeks, which is considered the "golden time" to contain the outbreak.
They have asked all citizens to stay at home as much as possible.
Speaking at a meeting on Monday, Nguyễn Thiện Nhân, secretary of HCM City Party Committee, noted the rapid spread of the virus, with 9,500 new infections worldwide in January, mostly in China, and then rising to 76,000 in February and 840,000 in March.
Experiences from countries with COVID-19 have shown that 100 cases increased to 1,000 within 10 days and to 2,000 within three days, he said.
"The death toll has also increased dramatically," he said.
HCM City targets containing the outbreak within the next two weeks, he said.
He said it would be hard to predict if the city can control the number of infections to fewer than 150 in the city in the next two weeks.
However, the city has done a good job in containing the outbreak so far. As of Mar 30, the number of infected people in the city totalled under 50.
He said Việt Nam has been trying to prevent the number of COVID-19 cases from rising up to 1,000.
The next two weeks will be decisive for the city and the country. The public, organisations and agencies must all join the prevention effort, he said.
According to Nhân, the city has spent about 25 per cent of the city's total budget to support people who lost income due to the pandemic.
"We will also discuss ways to help the homeless in the city to fight against COVID-19," Nhân said.
The city is learning from Bạch Mai Hospital in Hà Nội which has become an epicentre involving about 30,000 patients and people who visited the hospital in the past 14 days. They are now being traced for testing and quarantine.
After the incident at Bạch Mai Hospital where two medical workers tested positive for the virus, HCM City instructed hospitals to not allow people to travel freely from one department to another to avoid the spread of the disease.
The city has also directed the Department of Health to ensure time off for medical workers and provide training for non-infectious disease medical staff so they can work in infectious departments as needed.
Nhân demanded that city residents stay at home as much as possible.
Limiting travelling is one way to prevent the spread, he said.
"Experience from other countries shows that when an outbreak has worsened, travel must also be prohibited."
Nhân said that "wearing a face mask in public places is required, and anyone who violates this will be strictly punished."
Nhân also emphasised the importance of limiting close contact with others and washing hands thoroughly as often as possible.
Health Ministry launches account on COVID-19 prevention on TikTok platform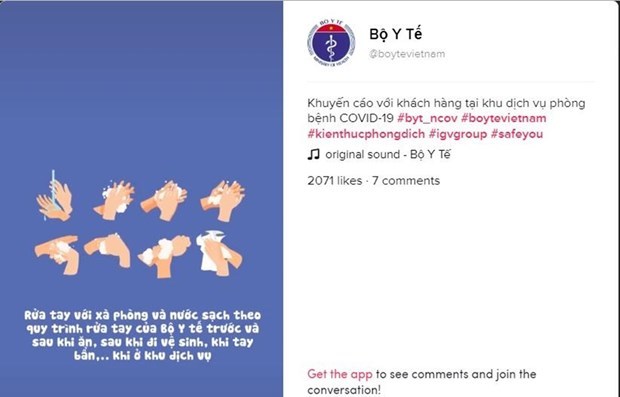 A screenshot of the TikTok account of Vietnam's Ministry of Health
Hanoi (VNA) - The Ministry of Health has recently launched its account on video app TikTok (@boytevietnam) in an attempt to bolster the dissemination of preventive measures against the novel coronavirus disease (COVID-19).
The move aims to raise public awareness and call on people to follow health recommendations, as well as provide guidance for those who develop symptoms of the disease and regularly update information for TikTok users.
As of March 27, using hashtag #BYT_nCoV, the account had drawn more than 15,000 followers, 40,000 likes and over 1 million views with 22 animated films.
In addition, to ask people to refrain from making crowds and avoid community transmissions, especially during peak time of the COVID-19 prevention and combat, the ministry on March 29 started a campaign titled #HappyAtHome on the platform to call on users to share their happy moments while staying at home.
Many organisations have taken part in the campaign, including the Vietnam Fatherland Front Central Committee and the United Nations Children's Fund (UNICEF), along with Vietnamese singers Amee and Ho Ngoc Ha, among others.
As of March 30 morning, Vietnam had reported 194 cases of COVID-19.
As many as 52 patients were discharged from hospital after their full recovery, including 16 people infected with the disease from January 23 to February 13 (the first phase). The 36 others patients have been treated since March 6 (second phase)./.
Foreign press hails Vietnam's efforts in COVID-19 fight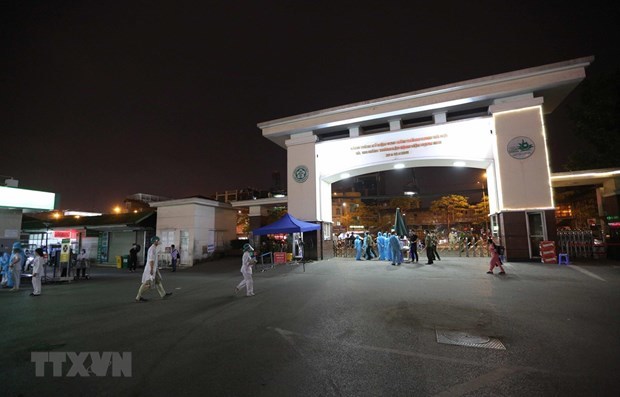 Hanoi-based Bach Mai Hospital is considered the biggest and most complex hotbed of COVID-19 in Vietnam at present.
The relentless efforts by the Vietnamese Government and people in the fight against COVID-19 over the recent past have been recognised many newspapers and experts around the world.
The US' New York Times posted an article on March 27 saying: "Even though Vietnam is one of Southeast Asia's poorer countries, its efforts against the virus, praised at home, have ensured its tally of infections is lower than those in many of its neighbours."
The article mentioned prompt and effective measures that the Vietnamese Government is applying such as limiting domestic flights, stopping public gatherings for two weeks from March 28, and quarantining more than 57,000 to avoid the spread of the coronavirus in the community.
Meanwhile, Germany's Deutsche Welle recently ran an article on Vietnams "war" on coronavirus, analysing factors that have helped the Southeast Asian country successfully curb the outbreak so far such as applying a widespread system of public surveillance and mobilising the military to the effort.
The government has described the combat as the fight against an enemy and called for the engagement of all people, it said.
The Philippines' Rappler newspaper quoted the UK's Financial Times as saying Vietnam has proved itself as a model in the work with limited resources but determined leadership.
The Diplomat carried a story, saying when the coronavirus began to rage the country in early January, the Vietnamese Government quickly responded and has deservedly gotten praise for doing so.
"The reasons for Vietnam's robust response to COVID-19 are varied. But among the factors is leadership," the article said, adding that for instance, the decision of Prime Minister Nguyen Xuan Phuc to stop all events, activities and gatherings of more than 20 people in the country was viewed as a definitive and firm move.
Other newspapers such as the UK's Evening Standard and Reuters, Russia's Komsomolskaya Pravda, and Canada's National also posted stories relating to Vietnam's moves to fight the pandemic.
Grassroots healthcare important for early detection of COVID-19 cases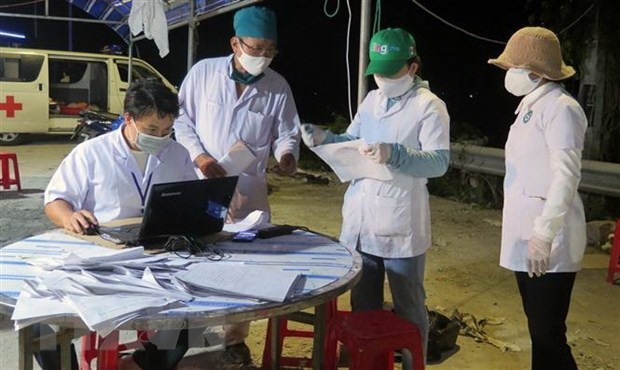 Health workers in Phu Yen province insert locals' medical declaration forms on computer
Deputy Health Minister Do Xuan Tuyen on March 30 emphasised the importance of grassroots healthcare in the early detection of COVID-19 infection cases in the community to curb the spread of the pandemic.
Tuyen, who is standing deputy head of the National Steering Committee on COVID-19 Prevention and Control, said at an online conference with health departments of cities and provinces nationwide that Vietnam has entered the third phase of the COVID-19 fight with high risks of community spread.
Therefore, the grassroots healthcare network must focus on solving two issues: detecting infection cases in the community early and minimising community spread, he stated.
He also stressed that grassroots healthcare plays a crucial role, contributing to the success of the fight against the pandemic.
As of 6.00am on March 30, Vietnam recorded 194 infection cases, with 52 having completely recovered.
Tuyen said that 70 percent of the infection cases came from outside Vietnam, while there are two big infection sources inside the country at present, which are the Bach Mai Hospital in Hanoi and Buddha Bar in Ho Chi Minh City.

He noted that there is an especially high risk regarding Bach Mai Hospital, where there are several groups of potential infections such as patients receiving treatment, medical workers engaged in treatment, medical trainees at the hospital, caretakers of patients, and service staff at the hospital.
Those people need to be detected and monitored closely to prevent the disease from spreading in the community, Tuyen added.