According to Ho Chi Minh City Center for Disease Control (HCDC), the epidemic situation has seen positive changes, so people need to adhere to the 5K rule and social distancing measures to quickly control the number of new infections.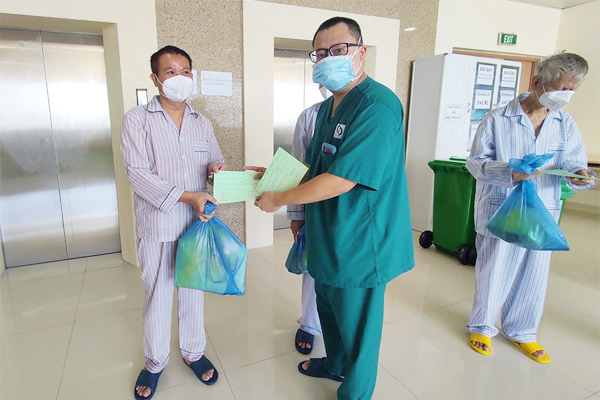 A patient who was in critical condition is discharged from the Covid-19 Resuscitation Hospital in HCM City. Photo: BVCC.
HCDC said that as of 6 a.m. on August 4, HCM City had 105,532 Covid-19 infections announced by the Ministry of Health, including 105,154 locally-transmitted cases, or 99.64% of all cases.
On August 3, 2,778 patients were discharged from hospital, bringing the total number of people recovered to 43,751.
On the same day, the city did not detect any new cluster. Currently, there are 30 outbreak clusters that have been localized and closely monitored.
The city is treating 33,444 covid patients, including 1,035 critically ill cases who need mechanical ventilation support and 15 patients with extracorporeal membrane oxygenation (ECMO) intervention.
HCDC also reported that 42,511 people are under quarantine, including 5,714 people at concentrated isolation sites and 36,797 others under home quarantine. The number of F1 cases (close contacts of Covid patients) quarantined at home, according to the guidance of the Ministry of Health, is 6,697 people.
HCM City has established a center to receive and distribute essential goods for people at the city, district and ward levels.
HCDC acknowledged that the positive changes were partly due to the cooperation and companionship of residents through self-management and the implementation of the green zone model.
Tu Anh

On August 2, an additional 3,127 patients were discharged from the hospital in HCM City, bringing the total number of people recovered to 40,973.