Thai Nguyen Central Hospital said that it had treated serious dog bites on a 20-month-old boy from the province's Dai Tu District.
Two boys die of rabies
Deadly dog attacks raise concerns over lax regulations
Saigon boy has 200 stitches after dog bites face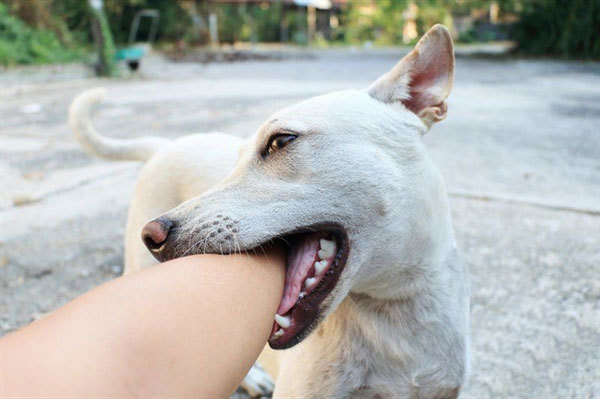 Illustrative image. — Photo baogiaothong.vn
According to the hospital, the boy was hospitalised on Saturday with dozens of wounds on his face, ankles and nose. After emergency treatment, the child recovered from critical condition.
Now, the patient's health is stable and he continues to receive care at the Department of Neurosurgery.
The boy's relatives said he was playing alone in the kitchen when he was suddenly attacked by the family's dog. Hearing the boy's screams, his relatives rushed in and saw the wounds on his face.
They took the boy to a local hospital for first aid and then to the Thai Nguyen Central Hospital because he had lost a lot of blood.
On Sunday, the Vietnam-Germany Hospital said it had treated a 77-year-old woman from Hanoi's Hoan Kiem District who was also bitten by her family's dog.
According to the patient's family, the German Shepherd weighing about 20-30kg attacked her while she was carrying food to her niece's house. She was brought to the hospital with wounds on her chin, arms and chest.
On July 10, a 22-month-old girl from the central province of Nghe An was bitten by a neighbour's dog while playing in front of her house. Although she was taken to the hospital for emergency treatment she did not survive.
The incident happened just two months after a seven-year-old boy died from injuries caused by a herd of dogs in the northern province of Hung Yen.
It is estimated that between 400,000- 800,000 people in Vietnam are bitten by dogs each year. Between 80 and 100 of these cases end in death caused by serious injuries or rabies.
Doctors recommended that dogs be vaccinated – especially in families with young children – and children should be prevented from close contact with dogs.
Children should be educated on how to avoid dog bites and how to initially treat animal bites, they said.
VNS