Thirty-one new COVID-19 local cases and one imported case were reported on Monday afternoon, including a one-year-old child.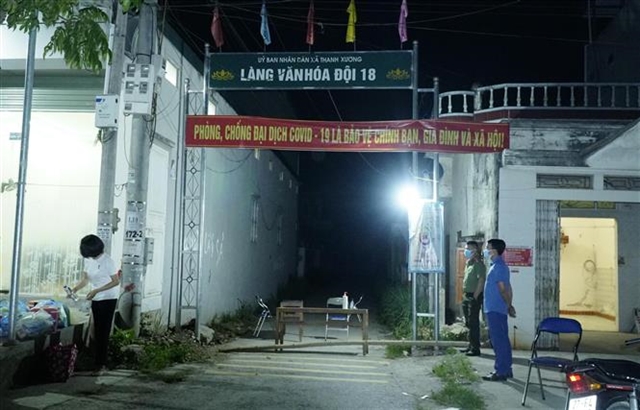 Authorities supervise the area when one patient in Điện Biên Province resides on Sunday. 
This is the first time the Ministry of Health has issued a midday report (in addition to the 6am and 6pm reports) since the pandemic began earlier last year, amid growing domestic outbreaks.
The transmissions were detected in Hà Nội (21), Bắc Giang (7), Hoà Bình (1),  Đà Nẵng (1) and Hải Dương (1). In Hà Nội, 12 of the cases are from the National Hospital for Tropical Diseases, which is currently under lockdown.
This raises the total number of coronavirus cases in Việt Nam to 3,444.
The 12 patients from the National Hospital for Tropical Disease in Đông Anh include one medical worker, eight patients and three patients' family members.
One of the cases found in Hà Nội is a one-year-old child from Hai Bà Trưng District, who had close contact with patient No 3,288. — VNS

Compared with neighboring countries such as Laos, Cambodia, and Thailand, the rate of vaccination against Covid-19 in Vietnam is still low, accounting for only 0.86% of the population.