The roads around 37 schools in HCM City's districts 1, 5 and 6 will be modified by next year to ensure they are pedestrian-friendly and safe for their students under the Walk This Way programme.
HCM City to encourage school students to travel by bus
Students join global #3500LIVES traffic safety campaign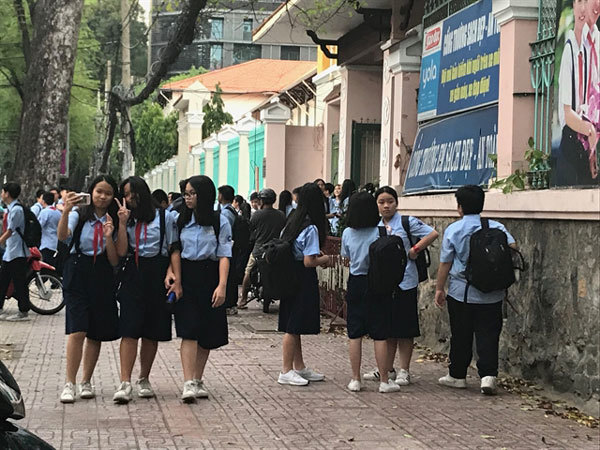 Students on the street outside Le Quy Don Secondary School in HCM City. — VNS Photo Gia Loc
Of the 37 schools, Ket Doan Primary School in District 1, Mach Kiem Hung Secondary School in District 5 and Pham Van Chi and Hung Vuong Primary Schools in District 6 have been chosen to trial the modifications.
They include installing pavements, yellow warning lights and pedestrian refuge islands for pedestrians to safely wait for a gap in the traffic to cross the road.
This makes crossing easier for pedestrians by allowing them to do so in two stages and deal with traffic from one direction at a time, according to the Road Safety Toolkit of the International Road Assessment Programme.
Pedestrian crossing signs and slow down markings have also been installed in the four schools' zone.
The modifications were based on the findings of the International Road Assessment Programme which helps rate the risks and safety of roads on a scale of one (least safe) to five (safest) stars.
Before the modifications, roads around the four schools had been assessed least safe.
Nguyen Van Gia Thuy of the city's Department of Education and Training said the schools in districts 1, 5 and 6 are on Vo Van Kiet Boulevard where traffic is heavy.
That is why they have been chosen for the programme, he said.
Launched in 2009 by FedEx and Asia Injury Prevention (AIP) Foudation/ Safe Kids Vietnam to improve awareness of child pedestrian safety and road user behaviours, Walk This Way has benefited more than 200,000 students in 315 primary and secondary schools across the country, and donated helmets, reflective jackets and caps, pedestrian safety pencil cases, and pedestrian safety books to students.
Nguyen Ngoc Tuong, deputy chief of the HCM City Traffic Safety Committee, said modifications in school zones enable students to walk safely.
According to the National Traffic Safety Committee, road accidents are the second leading cause of death and serious injury of children between infancy and 19 years old, with more than 1,900 dying every year.
VNS