Hanoi's Soc Son District authorities have decided to take disciplinary action against 39 officials for violating forest land management and use.
Hanoi to impose penalties on Soc Son forest violations
Locals ignore Soc Son demand to dismantle illegal constructions
Hanoi continues investigating land violations in Soc Son district
Hanoi's Soc Son District authorities blamed for lax forest management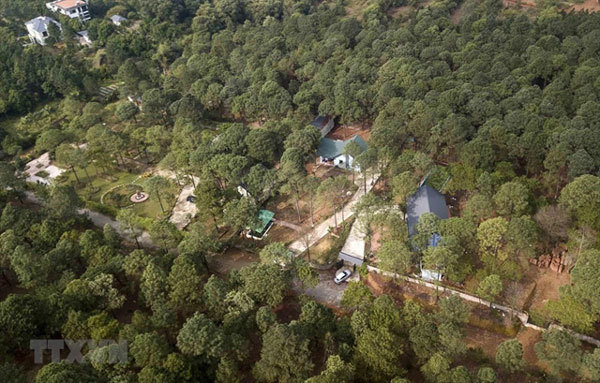 Illegal constructions in the preventive forest land of Soc Son District in Hanoi. —VNA/VNS Photo Thanh Dat
They were among 80 officials involved in the illegal construction of buildings on protection forest land in the district.
In a document signed by Chairman of the district People's Committee Pham Van Minh on Monday, two civil servants were fired.
Two officials from Soc Son District's Party Standing Committee were dismissed, six were given disciplinary warnings and 29 were reprimanded for their violations.
The leadership team of the district's People's Committee reviewed the leadership of the tenures of 2006-11, 2011-16, and 2016-21, especially the role of chairmen and vice chairmen.
Based on the statements of the officials, they decided to reprimand Do Minh Tuan, vice chairman of Soc Son District People's Committee of the 2016-21 tenure.
Soc Son District Party Standing Committee reviewed responsibilities of the leaders of three tenures of 2005-10, 2010-15, and 2015-20 and involved officials of the Ha Noi Party Committee of the three tenures.
The results must be reported to the municipal Party Committee and People's Committee for consideration.
The responsibilities of the Party organisations and Party members involved in the management of forest land in Sóc Sơn in 2008-18 were reviewed. The Standing Committee of the district Party Committee of the three tenures were told to learn lessons from their misdeeds.
The Ha Noi People's Committee's inspection department has issued disciplinary decisions for officials under the management of the committee.
Vice Chairman Ta Van Dao and Chairman Vuong Van But were given disciplinary warnings.
The Soc Son District Party Committee has decided to dismiss Dao Van Suu, Secretary of the district's Party Committee's Construction Inspection Team in the tenure of 2015-20.
Suu is a member of the committee and holds the position of deputy director of the Soc Son Temple's tourist spot and relic management centre.
As many as 19 officials were involved in the violations but were not serious enough to be disciplined. Another 22 officials were not disciplined due to sickness.
VNS