Doctors at the HCM City Oncology Hospital have been using 3D printing to create titanium-aluminum frames for bone grafts that can be used to reconstruct jaws for patients with head and neck cancers with malignant tumours in the lower jaw.
Developing 3D printing in VN: priting machines cheap, but materials lacking
Student invents robotic arm for the disabled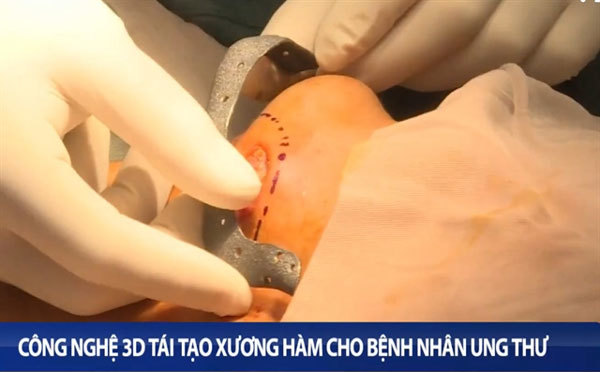 3D printing helps reconstruct jaws for patients with malignant tumours in the lower jaw. Photo courtesy of the HCM City Oncology Hospital
Head and neck cancers include cancers in the larynx, throat, lips, mouth, nose, and salivary glands, according to the American National Cancer Institute. Tobacco use, heavy alcohol use and human papillomavirus increase the risk of these cancers.
The hospital is the only health facility in HCM City to use this technology.
Dr Nguyen Anh Khoi, deputy head of surgery department No.5 at the hospital, said since the materials are not rejected by the body, the technology helps restore functions such as chewing, swallowing, speaking, and smiling.
The hospital has used it on 10 patients since last year. A 44-year-old man from HCM City is one of them. He was hospitalised last September and diagnosed with tumours in the lower jaw.
Doctors decided to perform surgery to remove his lower jaw and reconstruct it using the 3D printing technology.
The cost of the jaw frame is covered by an Australian non-profit society for oncology research, which also trained the hospital's doctors.
Khoi said the technology does not cause complications after surgery.
However, surgeons are required to have great skill and experience in reconstructive microsurgery where specialised operating microscopes and precision instrumentation are utilised to perform intricate operations on tiny structures.
Dr Diep Bao Tuan, deputy head of the hospital, said the hospital would get more new machines such as robots to perform specialised surgeries and use less invasive surgical techniques to improve treatment.
According to health experts, head and neck cancers are among the most commonly occurring types of cancers. But there are no official statistics about their incidence in the country.
The 2018 GLOBOCAN database published by the International Agency for Research on Cancer showed Vietnam had 164,671 new cases of cancer last year.
VNS