Young MC Mina Pham, who can speak four languages, is about to publish her book title 'Bi mat hoc ngoai ngu cua to' (My secret to learning foreign languages).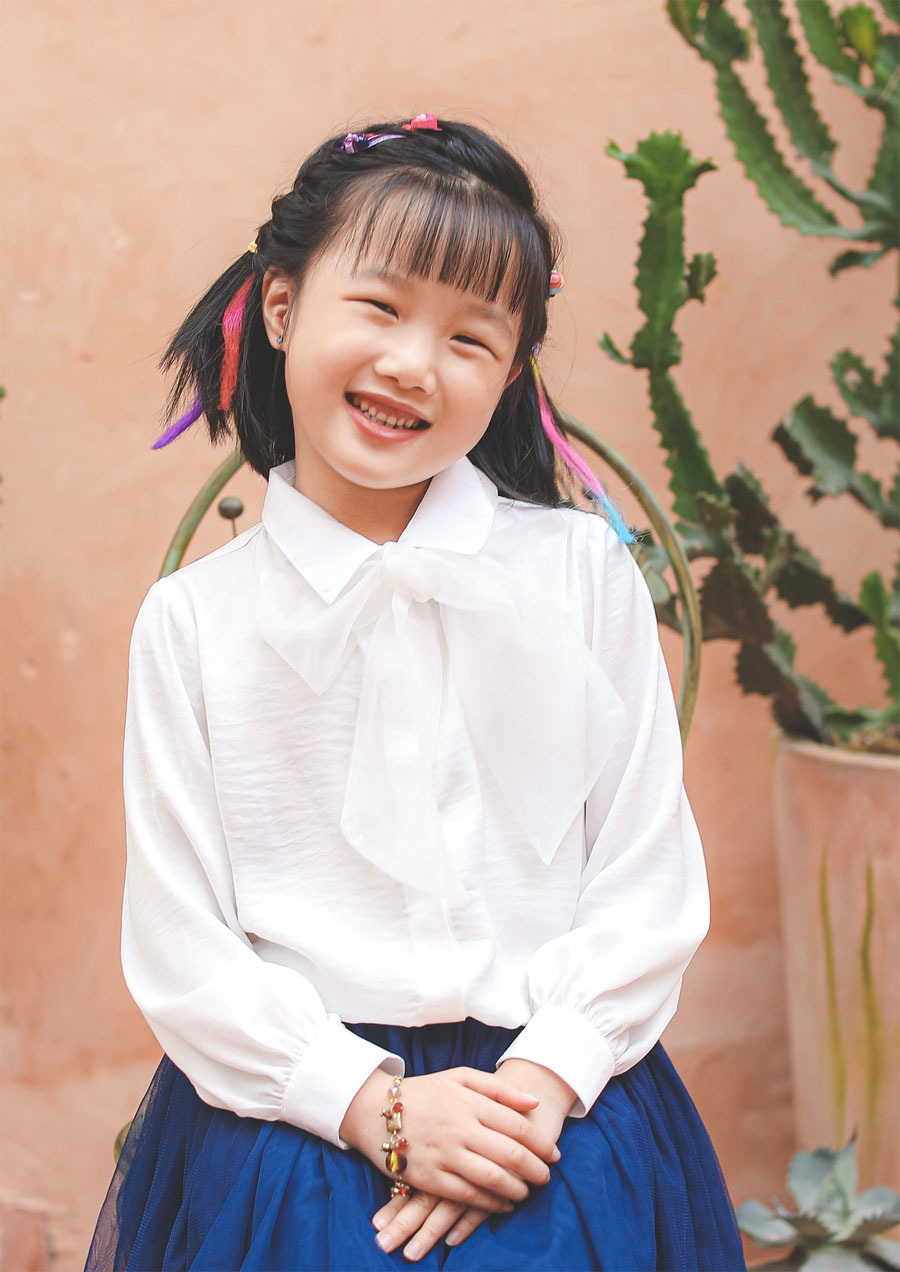 Mina Pham, the author of 'Bi mat hoc ngoai ngu cua to'
The girl, who is the youngest contestant to have achieved a perfect score for a Flyers certificate at the age of 7 in Vietnam, said the book aims to inspire others to study foreign languages.
Flyers is certificate for children between the ages of 7 and 12. This test shows that one can understand simple English in everyday situations and can communicate in basic English.
Mina is an MC who can speak English, Chinese, Thai and Vietnamese at school programs and in videos about region tourism experience on 'Happy Mina – Mina Pham' YouTube channel.
Her foreign language skills were obtained by self-study and practice with her mother, a Vietnam Television (VTV) editor. She did not go to any foreign language center.
The girl was born into a well-off family. Her father is a businessman and her mother is a television editor.
Khanh Ly said after watching the videos published by Mina on her YouTube channel, many parents and children wanted to know how Mina learned foreign languages and wanted Mina to share her experience.
The book was written and completed by Mina and her mother in two months. The publishing house is Thai Ha Books. Mina drew pictures for the books. The book has vivid images and content under the form of Q&A – the mother interviewing and Mina answering the questions.
Mina said by reading 'Bi mat hoc ngoai ngu cua to' (My secret to learning foreign languages), parents and children can have more methods to seek and use tools and language learning programs in an effective way.
"We hope we can do something significant for small children by sharing Mina's experience, including many things which have not been mentioned before," said Mui Khanh Ly, Mina's mother.
Mina's 'collection' of prizes is admirable. She won a special prize in a Spelling Bee, and a special prize in the English story-telling contest at school. She has been an excellent student throughout her school years.
Recently, Mina won second prize in a painting contest about promoting the prevention and control of Covid-19. When she was three years old, Mina surprised people with a New Year greeting clip in 11 languages. 
Le An

"Một cánh én nhỏ chẳng làm nên mùa xuân. Rủ nhau én về theo làn nắng ấm dần ..."  (A lone swallow won't beget a spring. Swallows flockin' in the sun warming...)

A businessman opens a free library for everyone, especially children, who loves reading and learning English.