As many as 89 cases of measles have been recorded between April 19 and May 5 in the capital city of Hanoi, according to a report released on May 6 by the Hanoi Centre for Disease Control.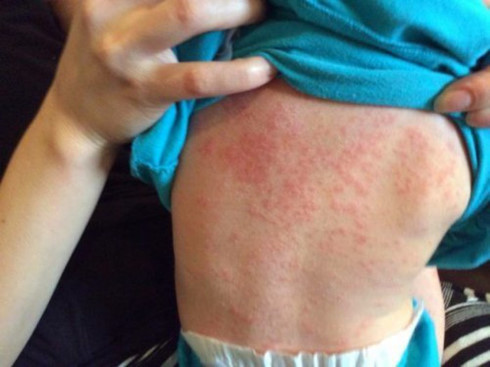 A case of measles
Since the beginning of the year, the capital has seen a total of 1,105 cases of measles, far higher than last year.
The majority of cases were found in Hoang Mai district with 150 cases. Other areas were also affected such as Thanh Xuan district with 76 cases, Nam Tu Liem district with 70 cases, Ha Dong district with 63 cases, Ba Dinh district with 55 cases, Dong Da and Thanh Tri districts both recorded 53 cases, Hai Ba Trung district with 47 cases, whilst 45 cases were recorded in Dong Anh, Cau Giay, and Long Bien districts.
In addition, the city also detected 10 cases of dengue fever this week, nine cases lower than last week.
An additional three dengue outbreaks were discovered in O Cho Dua ward in Dong Da district, Ngoc Liep commune in Quoc Oai district, and Me Tri ward in Nam Tu Liem district, lifting the total number of detected dengue fever cases this year to 28.

A total of nine hand-foot-mouth infections and one whooping cough patient was also reported in the city.
The Hanoi Centre for Disease Control said 552 public sanitation campaigns have been carried out in and around the city which has seen a total of 64,830 people attend.
VOV