The People's Court in Thanh Hoa Province has handed down a total jail sentence of 99 years to 21 people involved in a loan shark gang.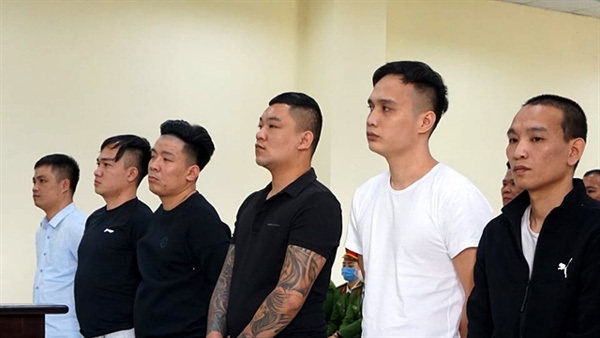 Members of the biggest loan shark gang in the country receive 99 years in prison at the first instance trial in Thanh Hoa Province on Tuesday. 
This is considered the biggest loan shark gang, known as 'black credit', led by Nguyen Duc Thanh, who were lending money and demanding payback at extortionate rates.
At the first instance trial on Tuesday, Thanh received ten years and six months in prison for his role in the operation.
Ngo Van Chuong, a gang member, was sentenced to 16 years in prison and the remaining defendants were sentenced to between 18 months and ten years for the same charge.
In July 2017, Thanh and Nguyen Cao Thang established a company without a licence named Nam Long Financial Company.
The company was located in District 1 in HCM City and was directed by Thanh.
Thanh also established company branches in 63 provinces and cities nationwide.
From late 2017 to June 2018, Thanh and his gang members lent money to around 95 people with total loans worth more than VND32 billion. They earned VND8.6 billion from the deals.
At court, Thanh and his accomplices were also tried on charges of deliberately causing injuries and illegally detaining people.
On July 9, 2018, Thanh directed his company's staff to attack Nguyen Van Minh, a company debt collector, when he used the company's motorbike to collect a debt of VND16.5 million and then fled.
Minh was then illegally detained for 10 days at a property belonging to the company in Thanh Hoa City.
He died after being hospitalised due to multiple injuries. — VNS

Lieutenant General Le Dong Phong, Director of the Ho Chi Minh City Department of Policy, speaks to Thanh Niên (Young People) newspaper on his agency's commitment to tackle 'black credit' in the city.

Minister of Public Security To Lam fielded questions about the Government's responsibilities and solutions in stopping criminal gangs and rings involved in loan sharks during a Q&A session of the National Assembly Standing Committee on Thursday.