Looking at his house that was built a year ago, Tran Van Phuoc smiles happily. He had never dreamed of owning a house as nice as this one.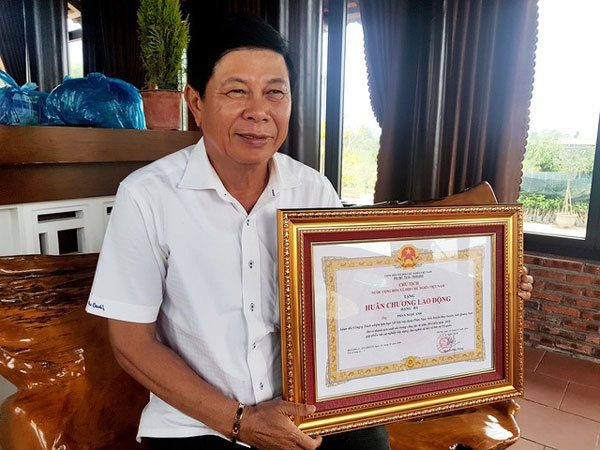 Phan Ngoc Anh with his Third-class Labour Medal certificate awarded by Party Leader Nguyen Phu Trong for his contributions to society. — Photo dantri.com.vn
Phuoc, 44, from Duy Xuyen District's Duy Phu Commune, said he was born into a poor family. Bored living in poverty and without work, he found himself in trouble with the police and spent a short term in prison.
After being released, he decided to start a new life.
He found a job thanks to the support of local authorities and built a new house on the plot of their previous rundown home with the help of brick factory owner Phan Ngoc Anh.
"My house was built at a cost of VND100 million (US$4,300). Anh helped with the bricks and lent me VND50 million," Phuoc said.
Phuoc is one of many people in Duy Xuyen District receiving help from Anh, who has dedicated his life to charity work.
After leaving the army in 1974, Anh worked at An Hoa brick factory, where he was promoted to factory director in 1984.
However, in 1989, he quit his job due to the workload and low income that was not enough to support his family, he said.
Anh found another job as a labourer, building roads and bridges.
The job was not easy so he decided to open his own brick kiln in 1990, the 65-year-old businessman told Dân trí online newspaper.
The business encountered many difficulties in the early years and he was unable to sell his products. In order to maintain production, he borrowed nearly VND1 billion ($43,000) from relatives.
"At that time, VND1 billion was a lot of money. But then I also went bankrupt," Anh said.
Not discouraged, in 2001 he borrowed more money from relatives and capital under the Government's poverty alleviation and hunger eradication project to open a brick factory.
Lady Luck had finally found him. Gradually, his products started to sell. He was able to pay off his debt and keep the factory running.
The business is running smoothly now, but instead of spending the money on himself, he's decided to donate 80 per cent of the profit to help needy people.
"I understand what my parent's taught me about doing good things in life and sharing with people less fortunate than me," Anh said.
"I give them thousands of bricks sometimes, or a cow to help them escape poverty."
The case that stands out for him is one of a whole family infected with HIV. He helped them build a house and live normal lives.
It just makes sense to him. "Other people's happiness is my happiness."
"I want to stay healthy and continue to work so I can earn more money to help the poor," Anh said.
Nguyen Ngoc Tien, chairman of Duy Phu Commune People's Committee, said Anh had helped many poor households escape poverty.
He had also helped build roads, houses, schools and canals, and supported local residents to develop production.
He had donated VND16 billion since 2011, Tien said.
There were also others Anh had supported that local authorities were unaware of, Tien added.
In other districts, Anh has contributed a massive VND50 billion for infrastructure projects since 2012.
"We cannot list all the households and welfare projects Anh has helped out with here," said Nguyen Van Kien, vice chairman of Duy Phu Commune.
In July, he was awarded the Third-class Labour Medal by Party Secretary, President Nguyen Phu Trong for his contributions to society. — VNS

Ngo Van Dau, a 56-year-old farmer living in Mekong Delta An Giang Province, often neglects his fields all day because he is too busy carrying the poor to hospitals.
At the age of 87, People's Artist Le Thu is not that interested in growing old peacefully, she's more concerned about staying healthy so she can help other people.