The Principal of Marie Curie primary school in Hanoi, Nguyen Xuan Khang, received a letter on July 25 from a 5th-grade student named Nguyen Nguyet Linh with a question: "Can our school give up releasing balloons into the sky on its opening day,
 or limit the number of balloons?"
In Vietnam, anyone who was a student in the 70s, 80s or 90s remembers the beautiful image of opening day, with the teachers and students all gathered in the school yard to release colourful balloons into the blue sky and wish for a successful school year.
Hanoi student calls for balloon ban for new academic year events
20 million Vietnamese students embark on new academic year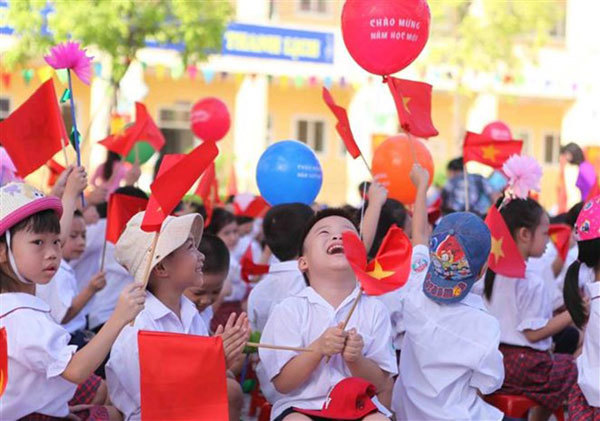 Illustrative image -- File photo
Linh, just 12 years old, sent her letter via email to 40 primary and secondary schools in Hanoi, asking them to consider the environmental impact of releasing balloons.
"As you know, the balloons are made of nylon and rubber," she wrote. "When you release the balloons into the sky, and birds or other animals swallow them, they can block their intestines and kill the animals."
"When balloons fall to the ground or into the sea, sea turtles and other creatures mistake them for jellyfish. They eat the balloons and get sick or die," Linh wrote.
Principal Khang said most people, including teachers, do not consider the impact on the environment and animals when they release balloons made from slow-to-decompose materials.
"Balloons are a serious threat to wildlife simply because they are colourful and bright, so wildlife might mistake them for food, and the strings can wrap around their bodies and make it difficult for them to swim or breathe," Emma Tonge, communications and outreach specialist at the National Oceanic and Atmospheric Administration, told USA Today.
Stopping the tradition of releasing balloons into the sky on the opening day of the school year may be giving up a joyful ritual for young students, but it opens the door for a larger dream to protect the life of all creatures on the planet in the face of the urgent issue of plastic pollution.
Minister of Natural Resources and Environment Tran Hong Ha sent a compliment letter to Linh, writing: "I hope your actions will spread, to build a school environment without plastic waste."
In a response to Linh, principal Khang said the school's opening ceremony for the 2019-2020 academic year will be named the "Nguyet Linh ceremony" to acknowledge her resolve and principles.
"I hope that your initiative will be welcomed by many schools," Khang wrote.
"At the age of 12, Linh knew how to express her views on the hot issue of pollution and her conscious responsibility for environmental protection," said Nguyen Thi Nghia, Deputy Minister of Education and Training.
Many slogan and movements have recently caught on, showing that people are interested in protecting the environment. However, Vietnam has yet to see widespread societal change in this area.
In order to change behaviours, environmental education for primary and high school students must be relevant to their everyday lives.
Perhaps young Linh already understands this. Releasing balloons into the sky has become commonplace at birthday parties, weddings and groundbreaking events, but people rarely consider the results. But the little girl understood how this everyday practice impacts the world around her and chose to boldly speak out.
The school, her family and the society as a whole should be proud of her for standing up, but she can't change the world alone.
In the face of incalculable consequences caused by pollution, State and local authorities have for years pushed actions programmes to reduce waste, plant trees and punish litterers.
However, many people still believe protecting the environment is the responsibility of the Government and that the waste they produce has little impact on the issue. As a result, adults frequently set a bad example for their children.
Since Linh's letter, parents and students have weighed in online. Thu Van, a mother of two living in Hanoi, said she boycotted the use of plastic covers to wrap notebooks. She expressed her support for Linh's efforts.
"That's very wonderful. I hope that this letter from her will create a wave of eliminating actions that are detrimental to nature and the environment in Vietnam," Van wrote.
According to a Wall Street Journal report published in 2018, Vietnam ranks fourth in the world for plastic waste discharged into the sea.
Even as some behaviours have slowly started to change, we continue to release balloons into the sky and drop paper and plastic lanterns into waterways during prayer festivals.
It may be a small change, but not releasing balloons would have a big environmental impact and a wider significance for our society. Nguyet Linh gently showed me I need to re-evaluate the actions I take every day to make sure I respect and protect the environment.
This issue is not unique to Vietnam; many cities and states in the United States now prohibit releasing balloons into the sky.
Balloons Blow, a US-based non-profit organisation specialising in educating people about the impact of balloons on the environment, works hard to teach university students and people across the country and gradually change their actions.
Hopefully, through the efforts of Balloons Blow and conscientious people like Linh, the world will soon understand the issue with releasing balloons. And – more importantly – they can take that lesson and apply it to the rest of their behaviours.
"Thanking you, Nguyet Linh, for having a human soul," wrote 40-year-old Mai Thu of Phu Tho Province. "Let's work together, from the most concrete and practical jobs, for our own environment and future generations." VNS
Kieu Van