Tran Thi Giang Huong, director of the Department of International Co-operation under the Ministry of Health, was appointed Director of the World Health Organisation's Division of Programmes for Disease Control last year.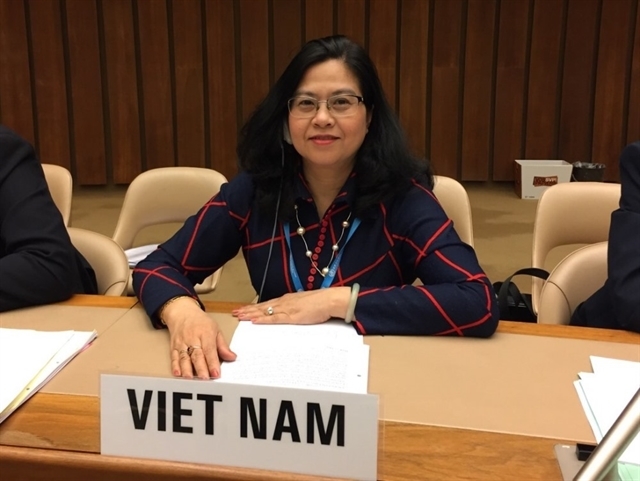 Tran Thi Giang Huong
She talks about her new role at an international body.
How did you become the director of a WHO division in charge of a very important field?
In recent years, thanks to Party and State policies on foreign affairs and international integration, the health sector in Việt Nam has made extensive and comprehensive achievements. These have made a positive contribution to the country's international integration process, as well as boosting the role and position of Việt Nam's health sector and the country in general. 
I have been working at the Ministry of Health for 25 years, and have been the Director of the Department of International Cooperation for 11 years. I have knowledge and professional experience, and have also been able to create a network of international partners working in the global health field. 
Việt Nam is become increasingly known as a reliable and responsible partner within the international community. In my role, I recognise that participation in international organisations is an expression of responsibility and a practical, effective contribution to addressing global health issues. 
By chance, I learned that the WHO, the highest health professional agency of the United Nations, was in need of a number of important positions at the WHO Office in the Western Pacific Region, which is an area of ​​37 countries and territories with a population of 1.9 billion, including Việt Nam. 
With the support of leaders from the Ministry of Health and the Ministry of Foreign Affairs, I applied for the position of Director of the WHO Western Diseases Control Program in the Western Pacific region. And I was selected. 
Having held the position of Director of the Department of International Cooperation for more than 11 years and now in your new WHO role, what are the similarities and differences in these two positions, and what will be the focus of your new job? 
As Director General of International Cooperation for the health sector, I took charge and managed international co-operation activities across the sector, mobilising aid and technical cooperation from international partners. 
During my time at the Ministry of Health, I have been constantly studying, researching and participating in many professional activities, including disease prevention, which is one of the strengths of the Vietnamese health sector. 
My experience has helped me a lot in my new role at the WHO. I direct technical assistance in the areas mentioned above to 37 countries and territories in the region, while developing action plans, strategic frameworks for disease prevention, and management of non-communicable diseases in the area.
I was directly involved in professional fields at new levels, with a wide range of influence throughout the region. This is a very important but also challenging job, requiring good management and extensive knowledge and experience to guide and direct others in the Western Pacific region. 
What is your impression of a multinational working environment? What is your future focus? 
In the past six months in my new position, I have integrated well with the highly professional and demanding international working environment. I have been able to show my managerial and professional competence and affirm myself in my new position. This is great motivation for me to continue to strive to assert myself and fulfil my tasks. 
In addition to receiving technical assistance from WHO and other countries, Việt Nam, in return, can share its experiences and strengths with other countries in the region, thereby contributing to the medical knowledge of the region and the world. 
I also hope that Việt Nam's health sector will take correct and wise steps, learning from the experiences and successful lessons of other countries to build a fair, effective and inclusive health sector that meets the needs of the people. 
The WHO is always ready to accompany and support Việt Nam in this process. I also hope there will be more Vietnamese people, especially young and capable ones, who wish to contribute to the community, and to work for the WHO and other international organisations. — VNS

The World Health Organization on Wednesday declared coronavirus a pandemic, reflecting alarm that countries aren't working quickly and aggressively enough to fight the disease it causes, covid-19.

The World Health Organization lauded the efforts that Vietnam has made to respond to the novel coronavirus outbreak. Dr. Kidong Park, World Health Organization representative in Vietnam, grants an interview to VNEWS.