Located in the heart of Hanoi, Navii Dental Care clinic is a highly trusted address for dental treatment and restoration of not only Vietnamese but also foreigners. 
What has made this dental center a fame under hostile competition due to mushrooming clinics for over the past 20 years?
Convenient locations and modern facilities
Location plays a vital role in the success of a business. Navii Dental centers are situated at the center of Hanoi: No. 42 Cua Dong Street, Hoan Kiem District and 36 Hoa Ma Street, Hai Ba Trung District. These are populated places that have become the destinations of most foreign tourists. Thus, Navii Dental clinic has got the key to access a great number of potential customers.
Furthermore, the clinic has been investing on the latest dental technologies and state-of-the-art equipment to maintain the high quality of treatments and patients' comfort.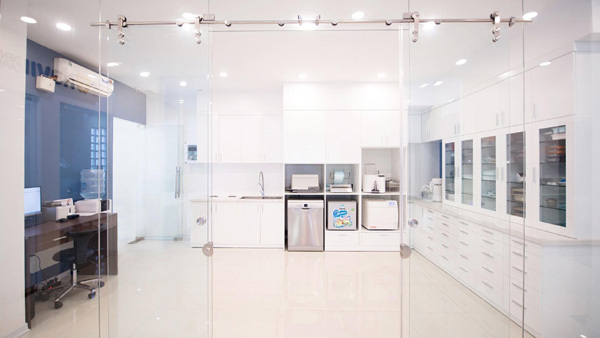 Sterile area of 32 m² eliminates the possibility of cross-contamination.
Navii Dental is the pioneer in Hanoi in equipping dental products from Dentsply Sirona - a leading manufacturer of dental equipment in the world. These include all-in-one Sirona XG 3D X-ray system, Sirona Dac Universal autoclave, Sirona Intego dental chair, ... which are served for effective examinations and treatment procedures.
Covering over 400m², Navii Dental Care is also the largest dental clinic in Hoan Kiem District, Hanoi. Besides providing patients with spacious and relaxed treatment atmosphere, Navii Dental spends specific areas for sterile process against cross-contamination adhering to high-class hospital's standards.
Highly skilled and experienced dental specialists
Navii Dental clinic is led by Dr. Thi Thai Hoa - one of the first experts in the field of dental implant in Vietnam.
After successfully graduating from the Faculty of Odonto-Stomatology, Ho Chi Minh City Medicine and Pharmacy University in 2006, Dr. Thai Hoa has sought further education in many countries such as Australia, France, USA, Singapore, and others. She has been familiar with the dental standards and treatments from top-notch institutions in the world, from which selecting the best and most appropriate ones and applying to her own clinic.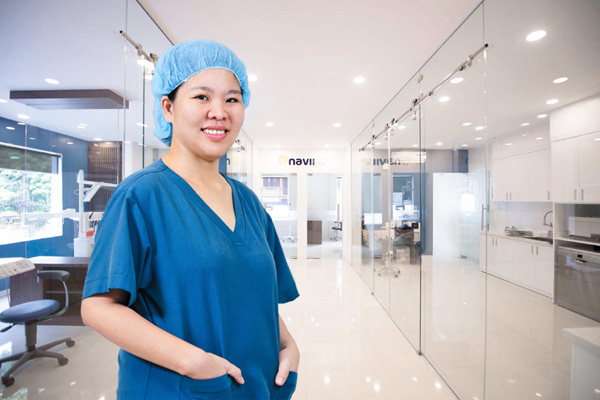 Dr. Le Thi Thai Hoa has over 13 years of working experience in the field of dentistry.
Navii Dental also has a team of dentists who are not only equipped with outstanding academic achievements, but also a high sense of responsibility and dedication to patients. Currently, the clinic employs eight professional dentists, including 1 Head Dentist, 1 Counselor, 2 Orthodontists, 2 General Physicians, 2 Aesthetic and Implant Surgeons. Each has picked up different experiences and skills during their working time, and a strong team will help patients get the optimal treatment plan.
Exceptional quality dental treatment
The careful investment in facilities and staff at Navii Dental has helped patients have extremely outstanding experience including curing dental diseases, whitening effectively and gently even with a sensitive set of teeth, getting a smile transformation that preserves the real teeth in maximum with porcelain crowns, restoring the missing teeth optimally with dental implants and others.
So far, the clinic has taken care of more than 20,000 Vietnamese and foreigners' smiles.
Mr. Bruce Morrison, an Australian patient living in Hang Bong, Hoan Kiem, said: "I found out Navii Dental clinic by chance. I live nearby. When I discovered a broken tooth, I walked around looking for a reputable dental clinic to solve it. Having found Navii Dental - a clean, spacious, and seemed to be a trustworthy address; I came in."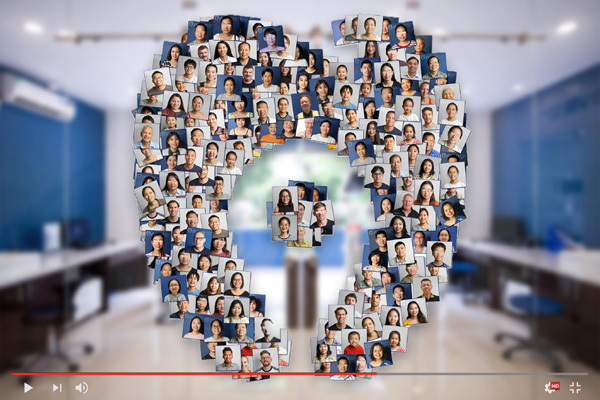 Over 21 years of operation, Navii Dental has a strong foothold in the dental market as well as in the hearts of customers. (see more here)
"Then I not only handled the broken teeth but also extracted my wisdom teeth, which was completely painless. That's why I went back to take All-On-6 implants, because I have been terrified with dentists. During the treatment, I was very nervous and panicked, surely Dr. Hoa had to put up with me a lot. The equipment here is super-modern. I have never seen anything like this in Australia. Very impressive!"
Based on the increasingly competitive dental market that a dental clinic could be wiped out in one month, no one can deny the heading position that Navii Dental Care is attaining at the current stage.
Let's visit Navii Dental Care at:
●             Location 1: 42 Cua Dong, Hoan Kiem, Hanoi
●             Location 2: 36 Hoa Ma, Hai Ba Trung, Hanoi
●             Hotline: 0912.60.42.42 & 024.3747.8292
●             Website: https://navii.vn/en/
●             Email: c.service@navii.vn
PV