More than 20 years after retirement, Professor Vu Trong Hong has not stopped working.
Vietnam rushes to improve elderly healthcare
Hanoi readies healthcare for aging population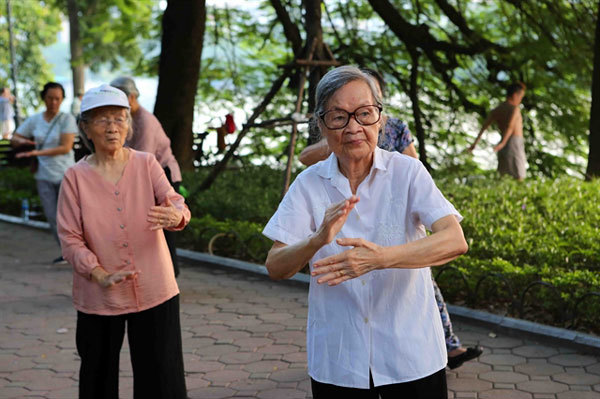 Elderly people do physical exercises by Hoan Kiem Lake in Hanoi. VNA/VNS Photo Thanh Dat
At his 80s, Vietnam's leading expert on water resources still does research, writes books and advises professional agencies.
When he has free time, he does outdoor activities like hiking or stays at home to teach his 13-year-old grandchild Russian.
"Teaching my grandchild is to inspire the spirit of learning in the next generation. Everyone will get old. If we want to take advantage of old people's intellects and encourage them to make contributions to society in their old age, we must invest in (training) the young generation," he said.
At the age of 72, Nguyen Thi Diem, living in Phung Town, Hanoi, has chosen to contribute to the community by establishing an intergenerational self-help club to support the elderly, especially those living in disadvantaged circumstances in her local community.
One of the club's activities is to offer regular health check-ups and consultations for old people.
Hong and Diem are examples of elderly people who have retired but still contribute to society in various ways.
According to the Ministry of Labour, Invalids and Social Affairs, there is high percentage of old people who continue to work after retirement. Up to 60 per cent of people aged between 60 and 69 and 30 per cent of people aged from 70 to 79 continue to work.
The ministry estimates that about 48,000 out of 120,000 retired labourers continue to work each year.
Old people have made contributions to society, however, many of them still face difficulties accessing social services.
Vietnam officially entered an "ageing phase" in 2011. In 2017, one in nine Vietnamese persons was over the age of 60.
According to the General Statistics Office, the amount of people over 60 years old is expected to reach 21 million – accounting for 20 per cent of the total population – by 2038, and 27 million, accounting for 25 per cent of total population, by 2050.
Dam Huu Dac, vice chairman of the Viet Nam Association of the Elderly, said "Vietnam is one of the countries with the fastest aging population in Asia. The transition from the population aging period to the aged population is about 17-20 years, which is shorter than other developed countries like France (115 years), Switzerland (85 years), the US (69 years) and Japan and China (26 years).
"This creates many difficulties in developing policies and programmes for the elderly. Many older persons are still facing difficulties and challenges in their lives, and need more attention, care and support from the Government and communities."
According to the General Office for Population and Family Planning under the Ministry of Health, 65.7 per cent of old people in Vietnamese rural areas are farmers living with low and unstable incomes.
Among more than 11.9 million old people in Vietnam, up to 73 per cent live without pensions, face multiple challenges and live depending on their offspring.
Accessible and quality healthcare
Hoang Van Luong, member of the Elderly's Association of Hanoi's Kim Ma Ward, said the elderly like him face difficulties in accessing healthcare services.
"At healthcare facilities, old people still have to queue up waiting for their turn. Each old person can be infected with not only one or two but many illnesses at the same time. Health insurance only covers normal types of medicine. Many old people who struggle to survive with their pension and suffer from serious illnesses cannot afford special treatment and specialised types of medicines," he told Việt Nam News.
Although Vietnamese people have high life expectancy, the age of health stands at only 64, Dr Le Xuan Cu from Ha Noi's University of Labour and Social Affairs said.
According to him, up to 67.2 per cent of elderly people in Vietnam are in weak or very weak states of health. Many of them have incurable diseases.
About 95 per cent of the elderly are infected with chronic diseases but only 60 per cent of them hold health insurance cards.
Dr Cu said the healthcare system for the elderly nationwide has not met demand.
Not all provinces and cities have specific healthcare departments or hospitals for the elderly.
Pham Thi Hai Chuyen, chairwoman of the Viet Nam's Association for Elderly, said the Law on the Elderly requires localities to allocate budget for regular health check-ups for the elderly but many provinces and cities have put investment in elderly healthcare aside.
She said the State should create conditions to encourage the private sector invest in healthcare services for the aged.
Director of Bách Niên Thiên Đức Elderly Healthcare Centre, Nguyen Tuan Ngoc, said the healthcare systems for the elderly in other countries receive private investment to reduce the burden on the State and society. Vietnam should learn from healthcare centre models in developed countries.
Many old people living in care centres have to pay living expenses by themselves because they do not have social insurance. The State should have mechanisms to attract organisations and individuals to build quality healthcare facilities for the aged, he said.
Social welfare
Vietnam's monthly social welfare for the elderly is set at a minimum of VND270,000 (US$11.7) for each person. Localities with good conditions have increased the rate.
Since 2014, income per capita has increased but social welfare for the elderly remains the same.
According to current regulations, people over the age of 80 living without pensions will receive monthly social welfare. Many local constituents proposed reducing the eligible age for the welfare from 80 to 75.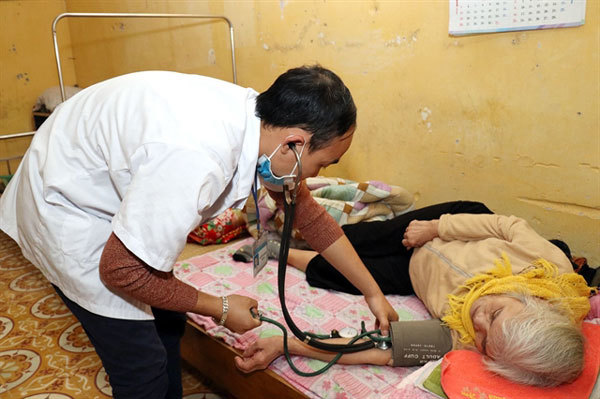 A doctor checks the health of an elderly person at the Elderly's Social Assistance Centre in Hai Duong Province. VNA/VNS Photo Anh Tuan

Le Xuan Phung, chairman of the Association of the Elderly in the northern mountainous province of Lai Chau, said the elderly in mountainous areas are mostly farmers and live without pensions. Many have to earn a living by themselves even when they get old. Their life expectancy is also lower than those living in urban areas so the number of people meeting the threshold for welfare remains low.
It is necessary to reduce the age criteria for social welfare beneficiaries and take care of elderly's health to improve conditions for those in mountainous areas, he said.
Bui Sy Loi, vice chairman of the National Assembly's Committee of Social Affairs, said in fact, many people aged over 80 live in good conditions while many under 80 live in disadvantaged circumstances.
He agreed with increasing the social welfare rate for the elderly, but the Government must consider the circumstances of each person to decide on the rate to ensure the welfare is delivered to the right people.
Minister Dao Ngoc Dung said the ministry will submit a proposal of increasing the social welfare rate for the elderly to the Government for consideration. To reduce the eligible age of social welfare, it is necessary to make adjustments to the Law on the Elderly first.
VNS