Dr Dao Quang Vinh, head of Institute of Science, Labour and Society under Ministry of Labour, Invalids and Social Affairs talks to Tuổi Trẻ (Youth) newspaper about shifting labour structure in the agricultural sector.
Vietnam needs to improve training of highly skilled workers
1.4 million rural labourers to get vocational training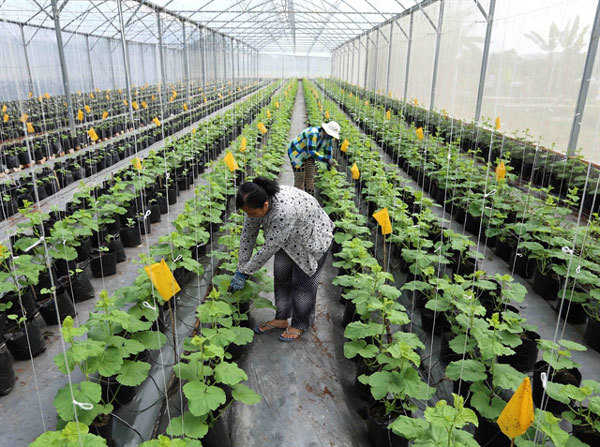 Farmers working in their net house to cultivate cantaloupe in Chau Doc City of the southern province An Giang. — VNA/VNS Photo Vu Sinh
A survey of the ministry has shown that the percentage of labourers in the agricultural sector has reduced by nine per cent over the past five years from 2014 to 2019 as agricultural labourers are moving to the service sector. Is this shift beneficial to our development goals?
The current percentage of agricultural, forestry and fishery labourers is 38 per cent, down by nine per cent from 2014.
The reduction through the five-year period averages to less than two per cent each year. It's not high because our reduction target in 2015-20 period is three per cent each year. By 2020, we hope to reach a target of 30 per cent of agricultural labourers in the workforce.
However, the good news is the reduction rate of agricultural labourers accelerates as the years go by, as one to two per cent at first, and now it's close to three per cent in recent years. At this rate, perhaps the ratio of those employed in the agriculture sector within the overall labour structure will be only a little above 30 per cent by 2020.
Why have we failed to hit initial targets in labour restructuring?
There are many reasons, but first we have to talk about our planning method. We base on socio-economic theories and scenarios in mid-term and long-term so the predicted numbers can't be completely accurate.
Secondly, the labour shift really can't take place at the desired pace since the Government's investment in agriculture remains low. Private sector's companies also often invest less in agriculture. Meanwhile, industry and service sectors aren't developed enough to attract the workers from agricultural sector. The point is labour self-changing and the development of non-agricultural services in rural areas is still slow.
The number of companies working in agriculture is fairly meagre, for example, HCM City and Hanoi boast the highest number of agricultural companies, and it's just six per cent of firms in each city.
What are the chances of lowering the agricultural labourer percentage below 30 per cent by 2020?
We absolutely can't. We have to change the investment strategy and increase funding in agriculture and rural areas if we want to achieve it.
We need policies to attract domestic and foreign investment in agriculture and rural areas so industry and services models can grow strongly and fast.
Another important thing is we have to focus on training, helping people to move from agriculture to non-agriculture, supporting them to switch their agricultural models, setting up companies and services to create jobs by themselves. This is the only way to reduce the agricultural labourer ratio effectively.
How do wages affect the shifting labour structure?
High wages will attract labourers, but it depends on the divisional structure and the skills of workers. Labourers from rural areas are often not qualified, or equipped with professional skills. We need to pour more investment in skill training for rural labourers so they have sufficient skills to work in different fields.
Recently, some companies have found it hard to recruit unskilled workers so they go to the countryside and transport workers to their business. Do you think this helps our efforts at shifting labour?
It's easier for people to find jobs now. By looking at quarterly unemployment statistics, we can see that actually, the group with bachelor's or associate's degrees suffer from higher unemployment rate than those with only intermediate or basic vocational training.
This shows companies are recruiting a lot of basic, unskilled workers. It also means rural workers will find jobs much easier. Overall, workers from all skill levels will find it not hard at all to get jobs.
There are many companies recruiting labourers in the countryside, so it definitely helps reduce the agricultural labourer rate.
VNS