As fall armyworm are wreaking havoc across the northern provinces, leaders of the Ministry of Agriculture and Rural Development have been visiting the provinces to guide local authorities in their efforts to prevent FAW from spreading.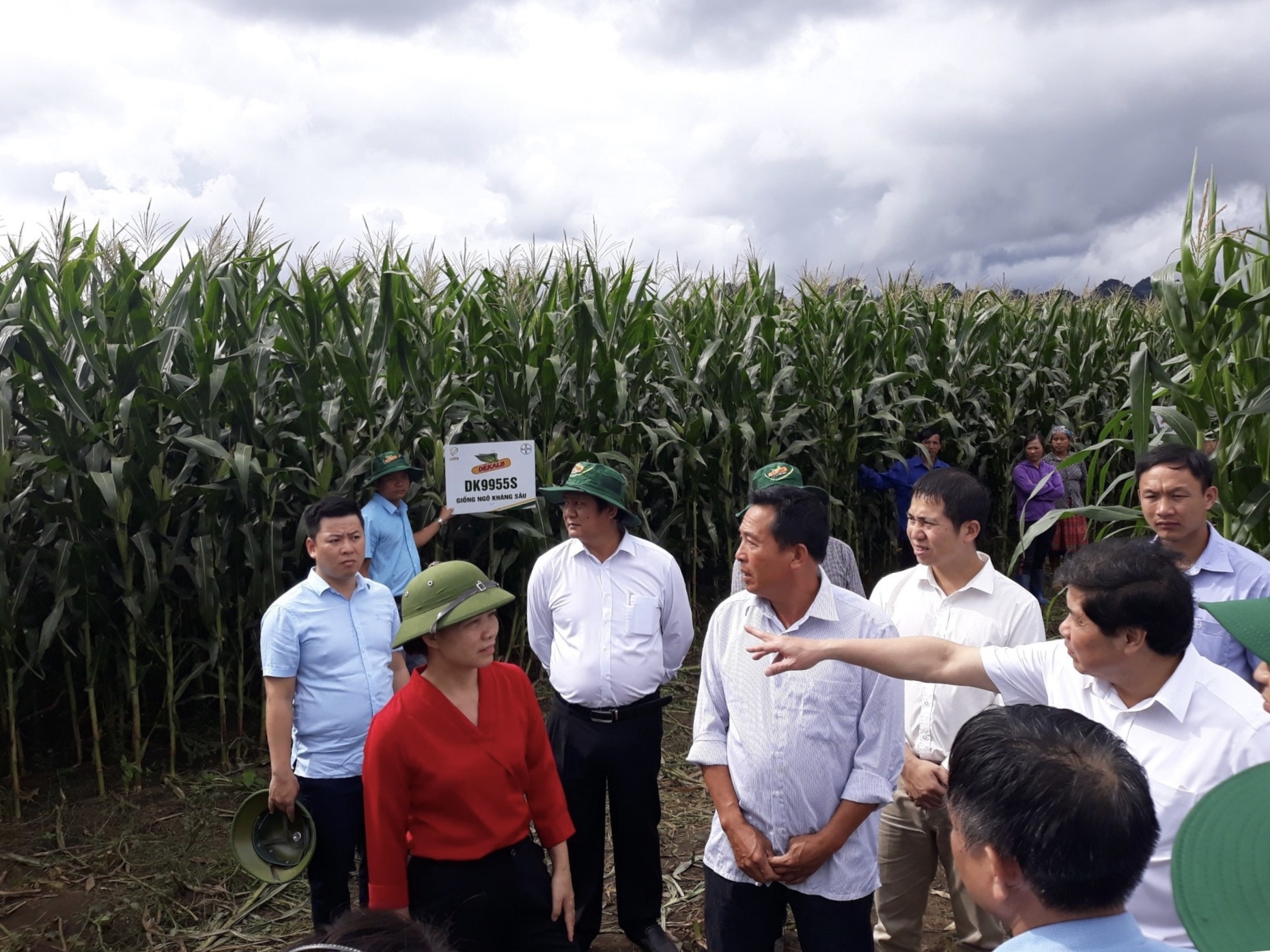 A cornfield using Bayer's corn hybrids DK9955S to avoid the invasion of fall armyworm
According to the Plant Protection Department, as of July 19, around 16,466 hectares of cornfields for the Spring-Summer season have been infected by Spodoptera frugiperda – FAW in Vietnam, with around 2,740 hectares heavily affected while 4,396ha subject to insecticide control measures.
FAW has taken the 'corn capital' Son La province by storm in March 2019, devastating 22,00ha of cornfields.
Farmers have sprayed insecticide for two and three times to protect cornfields from FAW. In some fields, farmers had to remove infected corn from the plantations, leading to massive losses.
Son La has taken action to prevent FAW and bring the invasion under control. The province provides training and guidance to agricultural officials and farmers to identify and prevent FAW.
In addition, the authorities also build pilot models for prevention measures and different types of pesticides.
However, with the FAW being relatively new to corn farmers, pest control is still far from optimal and the insect meets little resistance. Therefore, the province has faced substantial challenges to tackle FAW at cornfields.
The MARD, in co-ordination with the Son La People's Committee, has organised a conference on July 24-25 to strengthen measures and co-ordination.
The conference attracted leaders and businesses from Son La and 25 other provinces in the Northern Midlands and Mountains region.
The delegation led by Le Quoc Doanh, Deputy Minister of Agriculture and Rural Development, also visited the affected cornfields as well as those using high-quality prevention and control measures.
Among them, Nguyen Hoang Mai, a corn farmer in Moc Chau district has applied effective integrated pest management (IPM) system to deal with FAW. He shared that his conventional cornfields were damaged by FAW in April, although he sprayed insecticide twice.
He decided to remove the conventional cornfields and replant with insect management hybrids DK9955S of Bayer which can protect corn from FAW.
"The new cornfields have been developing healthily, unimpacted by FAW, without the need for insecticide. Meanwhile, our neighbour who uses conventional corn seeds had to replant three times already," he said.
Deputy Minister Le Quoc Doanh provided guidance at the conference on prevention and control of FAW
Speaking at the conference, Deputy Minister Le Quoc Doanh said that the new worm has a long life-cycle. Meanwhile, corn farming in Vietnam is small and fragmented, making it easier for FAW to spread to different crops, especially on cornfields on sloped terrains.
The deputy minister has ordered the local authorities in the north to encourage farmers to grow corn crops simultaneously to avoid the spread. He also suggested farmers switch to insect-resistant corn hybrids, which showed outstanding performance compared with conventional corn types.
Bayer's insect-resistant technology is currently the latest in the marketplace that features the exclusive presence of two cry genes offering two modes of action against FAW.
In addition, farmers and authorities should visit corn fields regularly to identify FAW for proper management.
The deputy minister also requested the Plant Protection Department to research and develop new measures to tackle FAW effectively. Meanwhile, enterprises should register new FAW insecticide in accordance with current law. VIR
Thanh Van

The fall armyworm has hit Vietnam and caused serious damage to maize crops in recent months, after leading to the loss of billions of dollars in sub-Saharan countries and Asian countries.

The Ministry of Agriculture and Rural Development has reported to the prime minister on the spread of the exotic fall armyworm in many localities of the country.