A 30-metre section of Highway No 91 in the Mekong Delta province of An Giang fell into the Hau River on Tuesday after the soil underneath it eroded.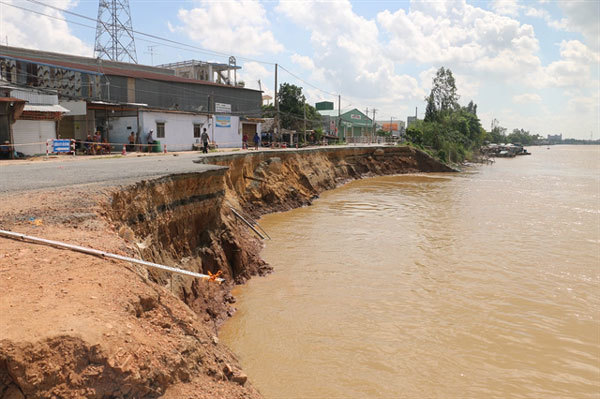 Erosion on a stretch of the National Highway No. 91 in Bình Tan Hamlet in An Giang Province's Chau Phu District on Tuesday. — VNA/VNS Photo Cong Mao
The landslides continue to expand, threatening the safety of dozens of local households. The road surface is now only 1m wide.
On July 31 and August 1, half the highway on an 85-metre section fell into the river.
Tran Anh Thu, vice chairman of the provincial People's Committee, said 26 households prone to landslides have been relocated.
Sand bags were used to fill the eroded area to prevent further erosion.
National Highway No 91 is the only road connecting Long Xuyen City with Chau Doc City. It is among 51 landslide spots in the province, he said.
During a working session with local authorities on Wednesday, Deputy Prime Minister Truong Hoa Binh said this is a very serious landslide, threatening lives and properties of local people and might become worse if there are no long-term solutions.
He ordered the Ministry of Transport to complete construction of an alternative road running through landslide spots on Highway No 91 before September 30.
The local People's Committee used VND25 billion (US$1.08 million) from the standby fund to repair the erosion and restore the highway.
An Giang's authorities were asked to report a financial plan to repair the erosion to the Government for approval.
For long-term solutions, Binh agreed with proposal to hand over the eroded highway and alternative road to An Giang's authorities for management.
Land erosion in An Giang is getting more serious with 51 landslide spots, affecting 20,000 households. Landslides occur along the Tien, Hau and Vam Nao rivers as well as on canals connecting with the main rivers.
The local authorities this week issued a state of emergency on the Hau River.
In a related move, the Cửu Long (Mekong) Delta province of Ben Tre will relocate 200 families living in erosion-prone areas to safer places and reinforce vulnerable areas to ensure the safety of 100 other households living along rivers and canals in 2019-20.
In 2021-25, those numbers will increase to 500 and 250.
Cao Van Trong, chairman of the provincial People's Committee, said residential areas would be built to resettle households from affected areas in Binh Dai, Mo Cay Nam, Mo Cay Bac and Giong Trom districts.
The province has in recent years encouraged households in erosion-prone areas along rivers and canals to move to safer areas and given them financial support.
Since 2015, it has spent more than VND4.4 billion ($189,630) to relocate 223 households and VND1.3 billion ($56,000) to reinforce vulnerable areas to safeguard 135 families.
There are 112 eroded spots along rivers, canals and the sea with a combined length of 19.4km.
Around 100,000sq.m of land has been lost to erosion each year since 1990, causing more than 1,300 households to lose housing and farming lands.
Erosion, caused by climate change, sea level rise, changes of water flows, and other factors, has been impacting the lives and livelihoods of local people in recent years, according to Bui Van Lam, director of the provincial Department of Agriculture and Rural Development.
To ensure public safety during the storm season and high tide periods, the province plans to relocate households from vulnerable areas or undertake erosion-prevention works to protect homes and lives.
Trong said the province is the eighth most vulnerable to climate change out of the country's 63 provinces and cities.
An estimated 462ha of land along rivers and on islets would be eroded in 2020-30, threatening the safety of 8,928 households, he said.

Authorities of An Giang Province in Mekong Delta said on Monday that erosion along the Hau River passing Vinh Truong Commune, An Phu District has become a serious issue worthy of being a "emergency situation."

Nguyen Huu Thien, an independent researcher on the ecosystem in the Mekong Delta talks to Nông thôn Ngày nay (Countryside Today) newspaper on the serious problem of land erosion in the region.

The People's Committee of the Mekong Delta province of An Giang has declared a state of emergency due to land erosion along the Ong Chuong River in Cho Moi district.  
VNS