Vietnam was shocked to hear the devastating news about the 39 people found dead in lorry container in Britain last week.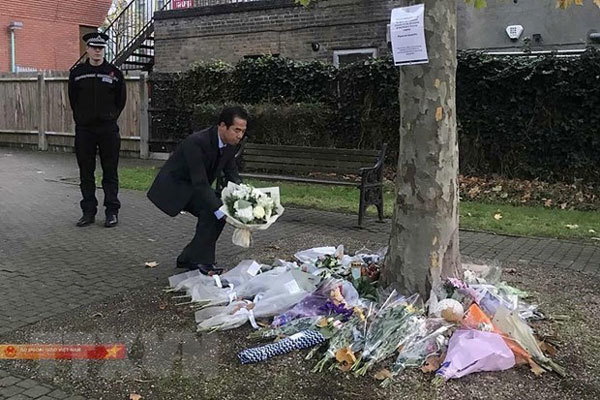 File photo
People fear the worst when numerous families spoke up with concern about their loved ones on the way to the UK who they hadn't heard from since the lorry was found.
Why did these good looking young men and women, some still single, some with loving families with small children, risk their lives venturing into unknown waters in a distant country?
They are believed to have paid vast sums of money, that may go up to VND900 million, trying to illegally enter the UK to work in illegal ventures for amounts of money they had no hope of earning legally.
Back in 2010, there were reports of illegal Vietnamese migrants working in cannabis farms in Canada being arrested. Detailed reports came out about how they made their way to Canada, then made quick money, to be later arrested and put in jail.
The underground activities were crushed by police then more Vietnamese started going to the UK, where they used lenient laws and set up shop.
According to immigrant papers, the people who went to Canada mostly came from Hai Phong, a northern port city.
Adventurous mind with sea-faring traditions allowed them to build ships that took them to Hong Kong, from where many transferred onward, stayed in Hong Kong or even returned home.
Back in harder times in the 1980s, when Vietnam was still under US trade and economic embargo, and harsh economic policies failed to win the approval of southerners, Hai Phong was also the departure point for many 'boat people', who fled the country for better living conditions.
A Vietnamese saying goes 'cái khó ló cái khôn', meaning difficulty breeds smartness, people always think of better ideas when things get tough. Maybe when in difficulties, people find better solutions.
But when destitute, this saying may have proved the opposite: when people put all the money they had, all the energy they could generate into an uncertain quest for money, it's a live-or-die situation, or, 'cái khó bó cái khôn', which means difficulty blindfolds smartness.
Many of the illegal migrants who work underground faced a point of no return after so much money was taken, their dignity was challenged to the lowest, they may have been abused physically and sexually (especially the women) and cannot go back home empty-handed and face the criticism of family, relatives and neighbours.
Writer Nguyen Van Tho, who lived the harsh life of guest labourer for many years in Germany, told it all in his novel Quyen, which was made into a feature film in 2015. The novel describes life under the law of the jungle when Vietnamese people went to the former East Germany.
After the fall of the Berlin Wall, many East Germans with college degrees lost their jobs, let alone the Vietnamese. In my trips to Berlin, I met some Vietnamese who stayed on from those days. They had East German college degrees, but had to work in restaurants to feed their families. The subsequent generations are doing much better.
But people who came during the time of East Germany could not in any way integrate into society. Some accepted repatriation and came back to live in Vietnam with some money paid by the new goverment.
Some stayed on and were driven to odd jobs like selling cigarettes at train stations or working in the Dong Xuan market in Berlin, where you can find all sorts of Vietnamese cuisine, even the special tofu, which was so popular during the harsh economic times in the 1980s, but now is nowhere to be found in Vietnam.
In an interview broadcast on national TV, local officials in Nghe An and Ha Tinh provinces said there were guest workers who stayed on from the East Germany labour exchange agreement, who moved to the UK to work and became economically successful. Others from their region just followed suit.
In online forums, many Vietnamese living abroad have critisised the media for not writing the truth about life abroad, the misery, the poverty and the cruelty. There is some truth to this, but there have been many reports about the cruelty of the long, arduous path abroad trying to escape police scrutiny.
Illegal immigrants deaths make headlines and clips of police ransacking clandestine cannabis farms and people being arrested are known to everyone, except those who made up their mind to leave everything and everyone behind in search of something they believe will be paradise.
Only a couple of days ago, The Sun interviewed some of the so-called "straw people" living in makeshift huts in marshlands in France, still waiting for their chance to get on a lorry to get into the UK. They said they heard the news about 39 people found in that lorry container.
"But they were just unlucky!"
Is there another urge, buried deep down in these people's psyche that makes them believe so much in the future they had spent money, tears and maybe the best time of their lives on this "future" when everything else they have experienced suggested the opposite?
If they turn back, people back home would reach out for them. But the thing is, would they forgive themselves? It could be a failure stamped on their forehead that they fear everyone they meet could see and read out loud.
"If I got paid US$100,000, I would not go back that path again," said a man with his back to a camera, who had come through Russia, Ukraine, crossed a river in a plastic bag from Ukraine to Poland, got arrested in Germany and was later repatriated back home. VNS
Nguyen My Ha

The Government has ordered authorised agencies to strictly handle any individual or organisation that illegally sends Vietnamese citizens abroad.
PM Nguyen Xuan Phuc has ordered a probe into trafficking of Vietnamese citizens amid fear that Vietnamese are among victims of the 39 people found dead in a semi-trailer truck at an industrial park in Essex, the UK.

The Vietnamese Ministry of Public Security and UK police announced on November 7 that all 39 victims found dead in a container truck in Essex, the northeast of London, UK on October 23, are Vietnamese.