Nguyen Duc Nghia, deputy head of Anatomy Division of the Hanoi Medical University, gives anatomy lessons with just a box of colored chalk and no laptop.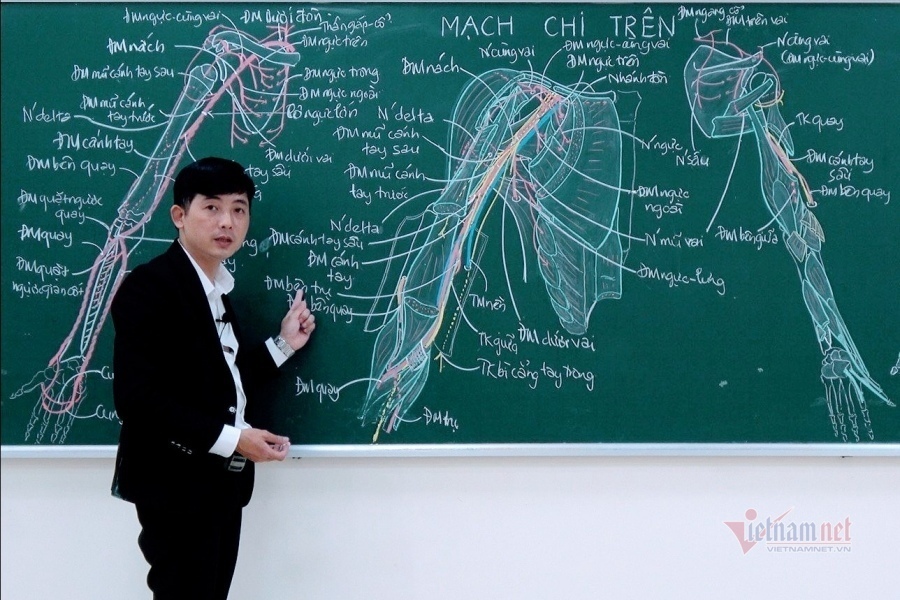 Nguyen Duc Nghia gives anatomy lessons
"As my lecturing doesn't depend on machines or electronic equipment, we aren't much affected if the electricity is cut," Nghia laughed, when asked about his anatomy lectures with sophisticated drawings.
Nghia said he was pleasantly surprised when hearing that he had become well known to medical students via Facebook and YouTube.
"I thought my teaching method was a little 'conservative' because many teachers are reforming their teaching methods and using information technology," he said.
Nghia said he once used electronic lectures and videos in his teaching hours. But after one month of trial, he decided that there were disadvantages.
Hanoi Medical University is one of the best universities in Vietnam.
10,000 followers on YouTube
Nghia's YouTube channel on teaching anatomy with visual images has over 10,000 followers. Nghia said it was a driving force for him to continue to share his knowledge with those who want to learn more about anatomy.
"There are about 15,000 new medical students at schools every year. Many healthcare workers may want to review knowledge on anatomy. I think if I can do well, the knowledge I share will have much value," he said.
Just with a smartphone and a tripod, Nghia films his lectures after school hours and then edits the video clips for posting on YouTube.
Nghia said the special chalk clings to the board, does not crumble and is colorful. It helps students differentiate the structure of the organs in the body.
"Sometimes, a piece of this special chalk is twice as more expensive than a box of chalk. But this is a useful investment," he said.
After 20 years of drawing, Nghia spends only several minutes to complete a drawing.
The teacher, who has tried many teaching methods, said that no lesspn will be effective if lecturers don't have good skills, even though the lesson may be sophisticated and designed well.
If a lecturer just shows slides and talks continuously while students hurriedly write notes in their notebooks, or students take pictures of slides with their smartphones but never look at them again, the knowledge they will receive will be modest.
The teacher said he encourages his students to draw the structures themselves, which can help them remember them. 
Thuy Nga - Huu Chanh - Phuong Thu

As the first author of six scientific articles and owner of one patent, Dr Ta Thu Hang has had great opportunities to get a promotion at a leading Australian university.

A Vietnamese university lecturer has won a prize in the UNDP's Ending Plastic Pollution Innovation Challenge.