Around eight million primary pupils will be taught about wild animal protection at schools in 2019-2020 school year.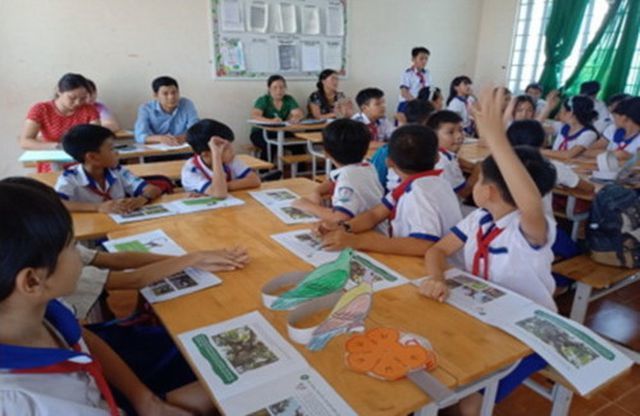 Millions of pupils to be taught about wildlife protection
The issue was discussed at a conference about the project to reduce the demand for trafficked wildlife in Vietnam held by the Ministry of Education and Training and CITES Vietnam Management Authority. The experts also carried out research and evaluated the educational materials on wildlife conservation for primary pupils.
Primary pupils will be taught about wildlife and the dangers they have to face, spreading to the message to say no to wildlife trading.
Vietnam has a diverse bio-ecosystem but it is also a hotspot for illegal wildlife trading. Many measures have been carried out in recent years to raise public awareness. It is hoped that the new educational materials will help change public behaviour, starting with young pupils.
During the pilot period, the curriculum was taught to 15,000 pupils at 50 schools in 10 provinces and cities in Hanoi, HCM City, Hai Phong, Nghe An, Ha Tinh, Dak Lak, Dong Nai, Khanh Hoa, Danang and Can Tho. The pupils have shown more understanding and positive attitude towards wildlife. They are also willing to talk to their parents and grandparents about wildlife protection, becoming ambassadors for animal protection.
In the 2019-2020 school year, about eight million pupils will be taught the curriculum.
"The teaching will help pupils understand more about important global issues and it proves Vietnam's efforts and commitments to the Convention on International Trade in Endangered Species of Wild Fauna and Flora," said Bui Van Linh, head of the Department of Political Education and Student Affairs.
Ha Thi Tuyet Nga, director of CITES Vietnam Management Authority, said that Vietnam is one of the few countries that integrate wildlife conservation into the school curriculum.
"The project not only aims to highlight the friendship between human and animals but also help to reduce demands for trafficked animals and fight against the traffickers," she said. Dtinews

Over one year since the Asia For Animals Coalition's call for not using wild animals in circus performance, Vietnamese kids have now been getting acquainted with familiar pets on stage.

Nearly a decade ago, Vietnam lost its last rhino. Since then, the country has made great efforts to combat wildlife trafficking and protect biodiversity. 

Vietnam remains a hot spot for wildlife hunting and trafficking despite efforts to curtail it.