Nearly VND23 trillion has been spent to combat flooding in HCMC during the 2008-2018 period, but antiflooding efforts remain ineffective.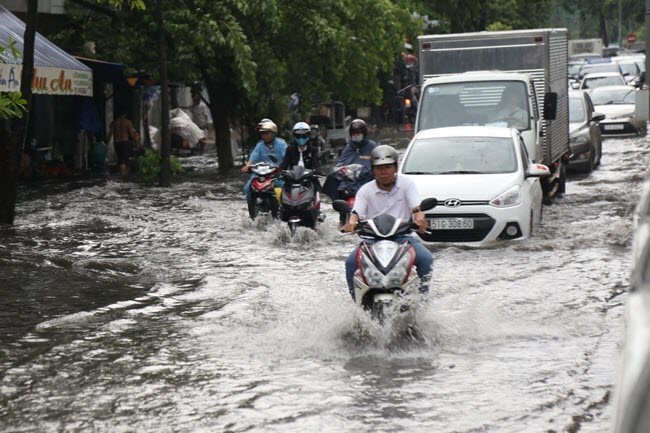 Nguyen Huu Canh Street in HCMC is heavily inundated after a downpour. The city has spent nearly VND23 trillion on fighting floods in the 2008-2018 period
The figure was announced at a seminar on urban flooding, jointly held by the Vietnam Water Supply and Sewerage Association (VWSA) and the Ministry of Construction on November 7 in the city.
The country's southern hub has adopted multiple antiflooding projects, with some improvement seen in certain areas. However, flooding in many other places is worsening year after year, alongside the rise of new flood-prone sites, said engineer Vu Hai, vice president and general secretary of the municipal Association of Water and Environment.
According to Hai, the city has yet to find the root cause of the flooding. Its antiflooding measures are inadequate and costly, and its management of the urban drainage system remains poor, resulting in high expenses and too much time being wasted on ineffective efforts.
Speaking at the event, Nguyen Hong Tien, vice chairman of VWSA, pointed out that urban flooding has severely affected the manufacturing and daily activities of local residents, while damaging construction projects and polluting the environment.
To date, only 21 projects have been executed as part of the city's urban drainage plan. Local residents mostly have to share water drainage facilities. The city's drainage pipelines of lower than 0.5 meter per person is much lower than the world standard of two meters per capita, according to VWSA.
Apart from rains and floodtides, flooding was blamed for urbanization, the poor management and operational skills of the competent agencies, the lack of locals' awareness of environmental protection requirements and land subsidence.
Accordingly, participants at the meeting suggested a host of antiflooding solutions, including mapping out a master plan for the city's urban drainage for 2030, with a vision toward 2050; reviewing existing water drainage projects and changing the mindset on management and operations. SGT

Dutch experts have proposed building dykes to control flooding in HCMC's districts 2 and 9 at a total estimated cost of US$1.2 billion, said HCMC Party Committee Secretary Nguyen Thien Nhan.

Many areas in HCM City will be flooded due to high tide on October 28-29.

High tides, dykes and land subsidence are causing serious flooding in urban areas in the Cuu Long (Mekong) Delta region, according to Nguyen Huu Thien, an expert on the Delta's ecosystem.