On his first day of elementary school back in 2009, Dinh Vu Tung Lam was sent home after biting a friend on the ear.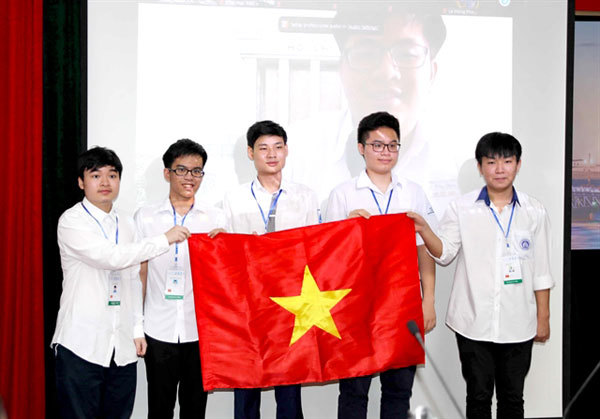 Dinh Vu Tung Lam (fourth from left) at the 62nd International Mathematical Olympiad (IMO) 2021. All six members of the Vietnamese team brought home medals, including one gold, two silver and three bronze. VNA/VNS Photo 
As a result, his teacher said that he could not attend regular school.
Last week, however, that same boy, now in the 12th grade, won a silver medal at the 62nd International Mathematical Olympiad (IMO) 2021.
Lam said the medal should have been given to his mother, who has supported him for the past eighteen years.
"She is my mum, my friend, my protector. She is the reason I have achieved what I have today," Lam said.
But Lam's mother, Hai Yen, said any mother would do the same.
"I want to tell other parents who have kids with autism like me that anything is possible as long as you try, and have faith. Your children can and will grow up and be successful just like any other child," Yen said. 
Their journey
When Lam was three years old, he was diagnosed with Autism Spectrum Disorder (ASD). For Yen and her husband, this was a daunting prospect. A parents' love for their child, however, can overcome any obstacle.
"He was non-verbal until the age of four, he would scream and attack anyone including me on a daily basis. He would fly into a rage very often," Yen said.
"But he was particularly interested in numbers," said Lam's father, Dinh Quang Ngoc.
Ngoc says he remembers many times when Lam would recall the numbers that he had seen on the street that day.
But Lam's gift was often overshadowed by his autism.
Yen tried to register Lam at a number of schools but was knocked back again and again. She would not, however, give up.
At Le Quy Don Elementary school in Hanoi, Yen finally found a place for Lam. 
This was, however, conditional: Yen had to make a commitment to the school's board that she would support Lam in class.
This, however, at times, was for Yen heartbreaking.
"I couldn't help shedding tears when seeing Lam try to join his classmates in games and then get rejected. One day he held a tree and just cried and cried," she said.
Yen decided she had to go beyond academic support and would need to also help Lam to socialise and make friends. She would often invite his classmates over to their house and cook for them. She also offered to collect other children from school for the other mums and take them home after class. Sometimes she would take them to the cinema and stay and watch movies with them.
"Lam began to make friends, really good friends, who have stayed with him ever since," Yen said.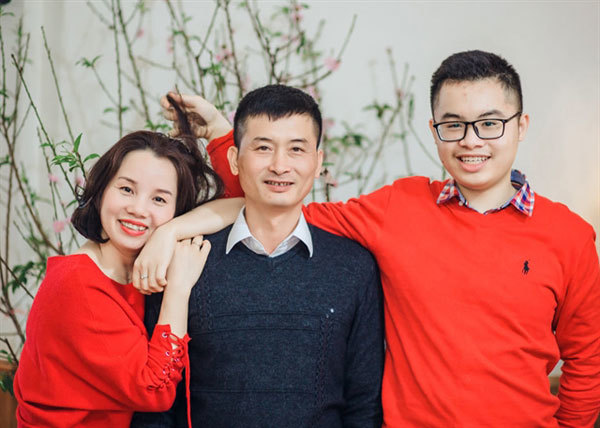 Dinh Vu Tung Lam (right) and his parents. Photo Courtesy of Vu Hai Yen
Every day the unstoppable mother and her son learned something new together. Lam said he was lucky to have her beside him.
"She would read poems with me every day and stayed up late to study the multiplication tables with me. She would also walk around the streets with me the whole day to observe things when I had homework on writing," Lam said.
"I started to like literature and was especially interested in maths. When I told mom about the first 10 out of 10 I received for a test in maths, she smiled but her eyes were all red," he said.
Yen had been crying.
She said when she found out Lam had a knack for maths, she felt like it was a light at the end of the tunnel.
"I was told by autism experts that autistic kids have a kind of darkroom in their heads. Parents need to find a way to bring them out of that darkroom. For Lam, maths lightened up the room and helped him become more confident," she said.
In the first weeks of the 2nd grade, Lam solved all the questions in the maths textbook.
He got his first maths prize in solving problems in a magazine called Toán tuổi thơ (Mathematics for Kids).
He went on to win more prizes at national, regional and then international levels including a silver medal at Asia-Pacific Mathematical Olympiad, golden medal at Hanoi Mathematics Open Contest, High Distinction rank at Australian Intermediate Mathematics Olympiad, golden medal at the World Mathematics Team Championships.​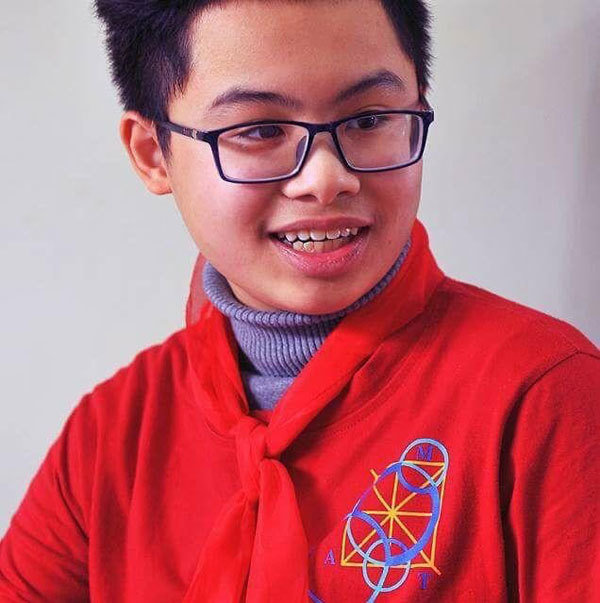 Dinh Vu Tung Lam in the 8th grade, after winning a High Distinction at the Australian Intermediate Mathematics Olympiad. Photo Courtesy of Vu Hai Yen
​Last year, Lam took part in the International Mathematical Olympiad but was only granted an honorary award. He was upset but still congratulated his friends who won medals.
"He was so sad," his mother said, "that I was afraid of the possibility of him taking part in the competition one more time and failing to win a medal would be very upsetting for him."
But he decided to come back this year.
"I told him 'Don't think of it as a competition, think of it as a chance to solve the mathematical problems that you like'," Yen said.
Lam took her advice on board and brought back a silver medal.
"All the medals and prizes make Lam happy and more confident, but I told him they're just a part of his life, and they're so many things waiting for him ahead. The important thing is that he must always be humble and patient," Yen said. 
Staying positive
Yen said she couldn't have done what she's done without having a tough attitude.
She also notes that her daughter, Lam's sister, was born with cerebral palsy.
"You can imagine the hardship and the sorrows," she said.
Her husband, Ngoc, however, says that she is always smiling and he is a lucky man.
"I owe her my life for all the things that she's been doing for the family, for the kids," Ngoc said. 
"With a kid with autism, another one with cerebral palsy, I have no choice but to stay positive to keep the good energy in the family," she said.
When Lam entered 10th grade, Yen found out she had thyroid cancer one afternoon.
She cried out of concern for her family but then she remembered she had to pick Lam up later that noon, she told herself: "Ok, I'll be done with the crying by 4 p.m."
Luckily, her treatment went well. 
"I always tell Lam that he is still luckier than many others because he has me and his dad who are always beside him, so he needs to stay positive and have sympathy for others," Yen said.
Lam wrote a letter to his mother in 2018.
In it he wrote: "I always want to look at my mom's bright eyes whenever I do something good. I know I have to be braver and stronger going forward because I want my mum to be happy." 
And she is. 
Source: Vietnam News

All six members of Vietnam joining the 62nd International Mathematical Olympiad (IMO) 2021 brought home medals, including one gold, two silvers and three bronzes, finishing 14th out of 107 participating countries and territories.

The Ministry of Education and Training on July 24 annouced Vietnamese students' excellent performances at international Olympiads.