Many individuals and organisations have called on the Hanoi court to reduce the sentence for the former chairman of the private pay-TV firm Audio Visual Global (AVG), Pham Nhat Vu at the on-going trial of the company's acquisition project.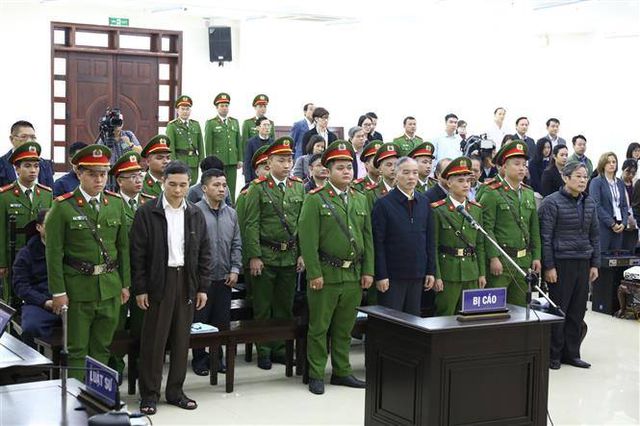 The defendants at the court on December 23
Vu was absent at a court on Monday morning due to health problems. He sent a letter saying he would keep the same testimony he declared in the investigation and during the recent courts.
Speaking at the court on December 23, Vu's laywer, Tran Hoang Anh said that many individuals and organisations in and outside Vietnam have called for a reduced sentence for his client.

"By October 31, 2019, there were 1,731 signatures and letters from highly respected people from Vietnam and other countries and over 300 organisations in various fields have offered bail or called on the court to reduce the sentence against Vu," the lawyer said.

Lawyer Tran Hoang Anh listed some organisations and individuals including the Buddhist Sangha of Vietnam; the Vietnam Red Cross Society; Kirsan Ilyumzhinov, former president of Kalmykia Republic; Konstantin Vasilievich Vnukov, Russian ambassador to Vietnam; and Prof. Atkov Oleg Yurevich, Russian hero pilot.

"All the letters said that Vu had contributed a lot to charity and social activities over the past 20 years," the lawyer said. "His family have gathered records from some charity organisations that showed he had contributed VND1.3 trillion (USD56 million) but in fact the sum was much larger.

The lawyer said that Vu at first wanted to sell AVG to a foreign partner but then MobiFone proposed the deal.

"There are no documents or evidence showing that there were promises or commitments about money and presents from AVG to MobiFone leaders," he explained. "After the deal was investigated, Vu tried to cancel the deal and recoup money to cover the losses to the state budget."

The lawyer said that Vu should receive clemency.

According to a representative from the procuracy, Pham Nhat Vu has actively co-operated with local authorities in the investigation of the case.

"He handed in some money to cover losses to the state budget.," the procuracy said. "He also showed regrets about offering bribes and tried to make up for his mistakes. He has contributed a lot to social and charitable activities. Therefore, he can be considered for clemency and reducing sentence."

The trial, which will run until December 31 in the Hanoi People's Court, has proposed heavy sentences to 14 defendants involving in the MobiFone's illegal acquisition of private pay-TV firm Audio Visual Global, causing losses of nearly VND6.6 trillion (USD284.4 million) to the state budget.

At the trial, two former ministers of Information and Communications, Nguyen Bac Son and Truong Minh Tuan, were both charged with violating regulations on the management and use of public capital that led to serious consequences and taking bribes. Son was proposed a death sentence while Tuan may face a combined sentence of 14-16 years in prison.

Pham Nhat Vu was proposed a sentence of 3 to 4 years in jail for offering bribes.

After the deal was struck, Vu offered Son USD3 million, Tuan USD200,000, Tra USD2.5 million, and Hai USD500,000. Dtinews
Tien Nguyen

The Hanoi People's Court on December 16 opened the first instance trial of the case of telecom giant MobiFone's purchase of 95 percent of Audio Visual Global JSC (AVG).

Family of former Minister of Information and Communications Nguyen Bac Son has returned VND21 billion (nearly US$903,000), part of the bribes he had received from former AVG chairman Pham Nhat Vu.