The authorities of Ba Ria-Vung Tau have suspended an aquarium project that has already reclaimed thousands of square meters of land in the sea, as experts and the public have voiced their objections, fearing coastal subsidence.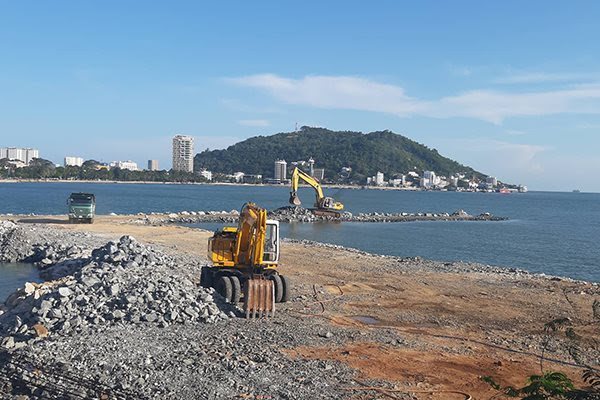 Crane trucks are seen at a land fill at Bai Truoc (Front) Beach in Vung Tau City, where an aquarium would be built 

As the investor of the project, Vung Tau Cable Car Tourism JSC intends to build a US$50-million seven-hectare entertainment complex, including an aquarium, on Bai Truoc (Front) Beach in Vung Tau City, which is popular with tourists.
The company started land reclamation last month. Since then, a number of experts, together with the public, have decried the reclamation due to concerns over coastal or inland erosion and risks to tourist swimmers resulting from disruptions in wave patterns and sea currents.
As a result, the provincial government has asked its construction department to call on the investor to stop the infilling work.
The department has also been told to work with the relevant agencies and the investor to scrutinize the project's documents and assess its impact on its surroundings, especially in terms of the environment and tourism.
The Hon Nguu complex, which expects to receive 3,000-5,000 visitors per day, was earlier given the green light to reclaim land at Bai Truoc Beach by 200 meters from the seaside road.
The complex will comprise two areas. In Zone A, a 22-story five-star hotel will be built, along with restaurants and sea sports facilities. In Zone B, there will be an aquarium, a beach area and a manmade swimming pool. SGT 
Le Anh

The large-scale encroachment of the sea to develop an aquarium project in Ba Ria-Vung Tau will have a long-term effect on the local environment and cause subsidence in coastal areas.

Featuring a quirky decoration, a café named 'The Upside Down House' in Vung Tau city, Ba Ria Vung Tau province has been luring people who love taking funny pictures.