Now this is an absolutely quackers case.
Three men in the Mekong Delta province of Vinh Long hvae been convicted of stealing hundreds of ducks and painting them to avoid detection by the owner, Thanh Niên (Young People) newspaper reported.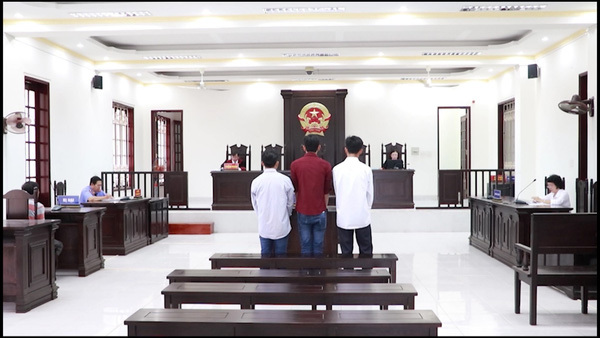 The three defendants at the court. — Photo vtv.vn
The incident occurred last October when Tran Anh Tai asked Chu Viet Sang to help him steal ducks owned by Nguyen Van Tam in their local commune of Phu Loc in Tam Binh District.
The two stole nearly 200 ducks, worth about VND19 million (US$819) and kept them in a nearby field.
To avoid being discovered by Tam, Tai told his brother Trung Nhut Truong to paint the ducks black. The next morning, Truong and Sang brought the ducks to the local market for sale. However, police soon arrested them.
On May 8, Tai was sentenced to nine months imprisonment while Sang and Truong got seven-month and six-month jail terms.
Then on August 7, the People's Court of Vinh Long Province opened the appeal trial to the three defendants. As the victim agreed to reduce the penalty for the defendants and they have compensated for the damage, the Jury Board decided to reduce the jail terms. Accordingly, Tai and Sang saw their sentences reduced to four and three months for stealing property.
Truong was given a three-month suspended sentence for consumption of property gained by committed crimes.
VNS